Automotive Powertrain Market (By Vehicle Type: Passenger Vehicle, Commercial Vehicle; By Propulsion Type: ICE, BEV) - Global Industry Analysis, Size, Share, Growth, Trends, Revenue, Regional Outlook 2022 – 2030
The global Automotive Powertrain market gathered revenue around USD 696.86 billion in 2021 and market is set to grow USD 2.1 trillion by the end of 2030 and is estimated to expand at a modest CAGR of 12.6% during the prediction period 2022 to 2030.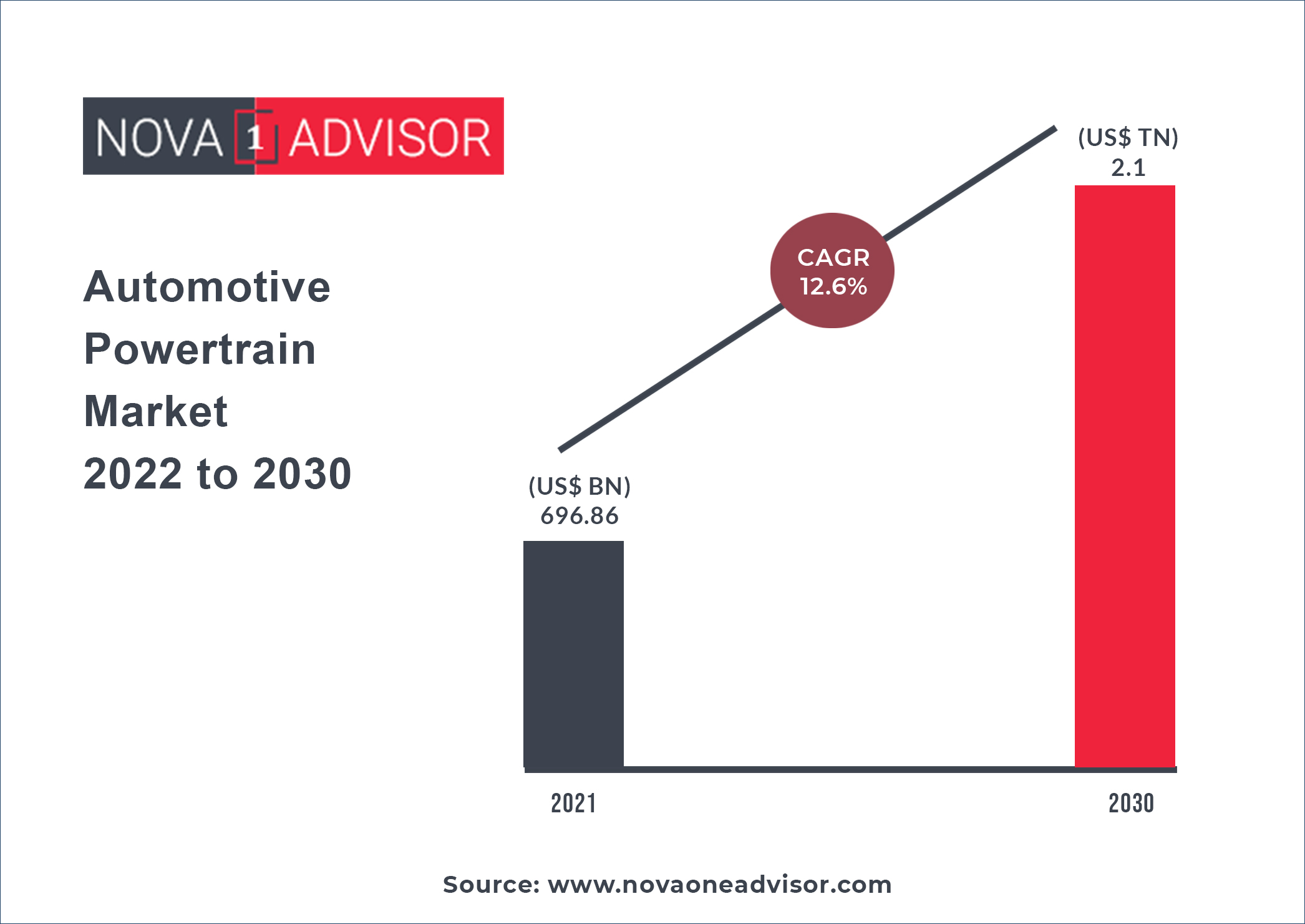 Growth Factors:
The increasing demand for environment-friendly vehicles and increasingly stringent government regulations regarding vehicular emission are expected to favor the demand for automotive powertrains in the market. Moreover, technological advancements in powertrain systems to enhance the vehicle's efficiency are anticipated to boost market growth prospects over the forecast period.
The adoption rate and pace of evolution of automotive powertrain vary across regions according to purchase subsidies, regulatory differences, road pricing, fuel taxation policy, state support, and consumer preferences. In Europe and countries such as China, South Korea, and Japan, stringent regulations are expected to make OEMs shift their focus on electrified powertrain options. Other significant factors that constitute the evolution of powertrain include developing charging infrastructure in different regions globally.
Increasing vehicle sales and the growing adoption of automated transmission vehicles in emerging countries such as India, China, Indonesia, Japan, and Brazil, are expected to drive the market. The substantial rise in the purchasing power of consumers has increased the demand for state-of-the-art motor vehicles, driving the demand for upgraded systems. The rising use of All Wheel Drive in SUVs in emerging regions is also expected to support the growth of the powertrain market. The growing demand for AWD-equipped vehicles in the Asia Pacific region is expected to boost the growth of the all-wheel-drive system market.
Report Coverage
Report Scope
Details
Market Size
USD

4

2.1

trillion

by 2030

Growth Rate

CAGR of

12.6

% From 2022 to 2030

Base Year

2021

Forecast Period

2022 to 2030

Report coverage

Growth Factors, Revenue Status, Competitive Landscape, and Future Trends

Segments Covered

Vehicle type, propulsion type, Region



Regional Scope

North America, Europe, Asia Pacific, Latin America, Middle East & Africa (MEA)

Companies Mentioned

BorgWarner; Continental AG; Magna International Inc.; Marelli Holdings Co., Ltd.; Mitsubishi Electric Corp; Nidec Corporation; Robert Bosch GmbH; Schaeffler AG; Valeo; ZF Friedrichshafen AG.
Vehicle Type analysis
The passenger vehicle segment accounted for the largest share of around 79.2% in 2021 and is anticipated to maintain its dominance over the forecast period as well. The shortage of computer chips in the automotive industry has affected production volumes and hindered market growth. Moreover, diesel, oil, and gasoline-based passenger vehicle markets are witnessing a shift toward electric passenger vehicles owing to increasing investments by governments in EV infrastructure and tax benefits offered to consumers. For instance, in the U.S., under the Clean Vehicle Rebate Project (CVRP), eligible candidates are provided a tax rebate from the State of California from April 23, 2021, onwards.
The commercial vehicle segment is projected to register a CAGR of over 12.7% over the forecast period owing to the increasing demand for a unified supply chain network connecting multiple transportation modes, including freight rail, air, and express delivery services, maritime transport, and truck transport. The introduction of electric vehicles in the commercial vehicle sector and the decentralization of production activities are expected to increase the production volumes of commercial vehicles globally. Moreover, truck digitization or connected trucks is expected to offer new business opportunities for key OEMs in the region, including Volkswagen (MAN & Scania), Daimler AG, and Volvo. These OEMs are expected to invest heavily in telematics solutions, which is anticipated to propel the growth of the commercial vehicle market.
Propulsion Type analysis
The Internal Combustion Engine (ICE) segment accounted for the largest share of around 91% of the overall market in 2020. The ICE segment consists of gasoline, diesel, and natural gas vehicles. Currently, gasoline engines are adopted widely and are projected to be replaced by diesel engines owing to the increasing difference between diesel and gasoline prices. However, the price difference between ICEs and EVs and improper charging infrastructure are the major factors that benefit the adoption of ICE vehicles. Due to these factors, component manufacturers are adopting hybrid powertrains to reduce fuel usage in vehicles.
The electric vehicle segment is projected to register a CAGR of over 29.8% over the forecast period. The slowdown in the sales of internal combustion engine vehicles and restrictions on CO2 targets have helped increase the demand for electric vehicles. The mass adoption of BEVs is an effective solution to cutting down emissions and reducing the total cost of ownership in the long run. Moreover, advancements in battery technology and reduction in Lithium-ion battery prices are also expected to boost the demand for BEVs over the forecast period.
Regional analysis:
The Asia Pacific regional market accounted for the largest revenue share of more than 60% in 2020. It is anticipated to continue leading with a CAGR exceeding 13.7% over the forecast period. China remains the world's largest manufacturer of automobiles as well as the leading automotive market. In 2020, China ranked first in terms of the production of passenger cars and recorded a production volume of nearly 21 million passenger cars. In India, the growing popularity of SUVs among customers is expected to drive the passenger vehicle segment. Furthermore, the electrification of vehicles, especially small passenger cars, is expected to influence market growth in the future.
Europe is estimated to expand at the highest CAGR of over 13.2% over the forecast period. The rapidly growing demand for hybrid and electric vehicles is expected to favor the growth of the electric powertrain market. The EV sector in Europe also experienced substantial growth in 2019. Germany has been at the forefront of reducing fossil fuel dependency and lowering the environmental impact of the automotive industry, among other initiatives.
Competitive Rivalry
Foremost players in the market are attentive on adopting corporation strategies to enhance their market share. Some of the prominent tactics undertaken by leading market participants in order to sustain the fierce market completion include collaborations, acquisitions, substantial spending in R&D and the improvement of new-fangled products or reforms among others.
Major manufacturers & their revenues, percentage splits, market shares, growth rates and breakdowns of the product markets are determined through secondary sources and verified through the primary sources.
Company Overview

Company Market Share/Positioning Analysis

Product Offerings

Financial Performance

Recent Initiatives

Key Strategies Adopted by Players

Vendor Landscape

List of Suppliers

List of Buyers
Some of the prominent players in the Automotive Powertrain Market include:
BorgWarner

Continental AG

Magna International Inc.

Marelli Holdings Co., Ltd.

Mitsubishi Electric Corp

Nidec Corporation

Robert Bosch GmbH

Schaeffler AG

Valeo

ZF Friedrichshafen AG
Segments Covered in the Report
This research report offers market revenue, sales volume, production assessment and prognoses by classifying it on the basis of various aspects. Further, this research study investigates market size, production, consumption and its development trends at global, regional, and country level for the period of 2017 to 2030 and covers subsequent region in its scope:
By Vehicle Type

Passenger Vehicle

Commercial Vehicle

By Propulsion Type
Gasoline

Diesel

Natural Gas Vehicle

BEV
By Geography
North America
Europe
Germany

France

United Kingdom

Rest of Europe
Asia Pacific
China

Japan

India

Southeast Asia

Rest of Asia Pacific
Latin America
Brazil

Rest of Latin America
Middle East & Africa (MEA)
GCC

North Africa

South Africa

Rest of Middle East & Africa
Highlights of the Report:
Market Penetration

: Comprehensive information on the product portfolios of the top players in the market.

Product Development/Innovation

: Detailed insights on the upcoming technologies, R&D activities, and product launches in the market

Competitive Assessment

: In-depth assessment of the market strategies, geographic and business segments of the leading players in the market

Market Development

: Comprehensive information about emerging markets. This report analyzes the market for various segments across geographies

Market Diversification

: Exhaustive information about new products, untapped geographies, recent developments, and investments in the market
Research Methodology
In the study, a unique research methodology is utilized to conduct extensive research on the growth of the Automotive Powertrain market, and reach conclusions on the future growth parameters of the market. This research methodology is a combination of primary and secondary research, which helps analysts ensure the accuracy and reliability of the conclusions.
Secondary resources referred to by analysts during the production of the Automotive Powertrain market study are as follows - statistics from government organizations, trade journals, white papers, and internal and external proprietary databases. Analysts have also interviewed senior managers, product portfolio managers, CEOs, VPs, marketing/product managers, and market intelligence managers, all of whom have contributed to the development of this report as a primary resource.
Comprehensive information acquired from primary and secondary resources acts as a validation from companies in the market, and makes the projections on the growth prospects of the Automotive Powertrain markets more accurate and reliable.
Secondary Research
It involves company databases such as Hoover's: This assists us recognize financial information, structure of the market participants and industry competitive landscape.
The secondary research sources referred in the process are as follows:
Governmental bodies, and organizations creating economic policies

National and international social welfare institutions

Company websites, financial reports and SEC filings, broker and investor reports

Related patent and regulatory databases

Statistical databases and market reports

Corporate Presentations, news, press release, and specification sheet of Manufacturers
Primary Research
Primary research includes face-to face interviews, online surveys, and telephonic interviews.
Means of primary research: Email interactions, telephonic discussions and Questionnaire based research etc.

In order to validate our research findings and analysis we conduct primary interviews of key industry participants. Insights from primary respondents help in validating the secondary research findings. It also develops Research Team's expertise and market understanding.
Industry participants involved in this research study include:
CEOs, VPs, market intelligence managers

Procuring and national sales managers technical personnel, distributors and resellers

Research analysts and key opinion leaders from various domains
Key Points Covered in Automotive Powertrain Market Study:
Growth of Automotive Powertrain in 2022

Market Estimates and Forecasts (2017-2030)

Brand Share and Market Share Analysis

Key Drivers and Restraints Shaping Market Growth

Segment-wise, Country-wise, and Region-wise Analysis

Competition Mapping and Benchmarking

Recommendation on Key Winning Strategies

COVID-19 Impact on Demand for Automotive Powertrain and How to Navigate

Key Product Innovations and Regulatory Climate

Automotive Powertrain Consumption Analysis

Automotive Powertrain Production Analysis

Automotive Powertrain and Management