The global Generic Drugs market gathered revenue around USD 391.02 billion in 2021 and market is set to grow USD 576.53 billion by the end of 2030 and is estimated to expand at a modest CAGR of 6.59% during the prediction period 2022 to 2030.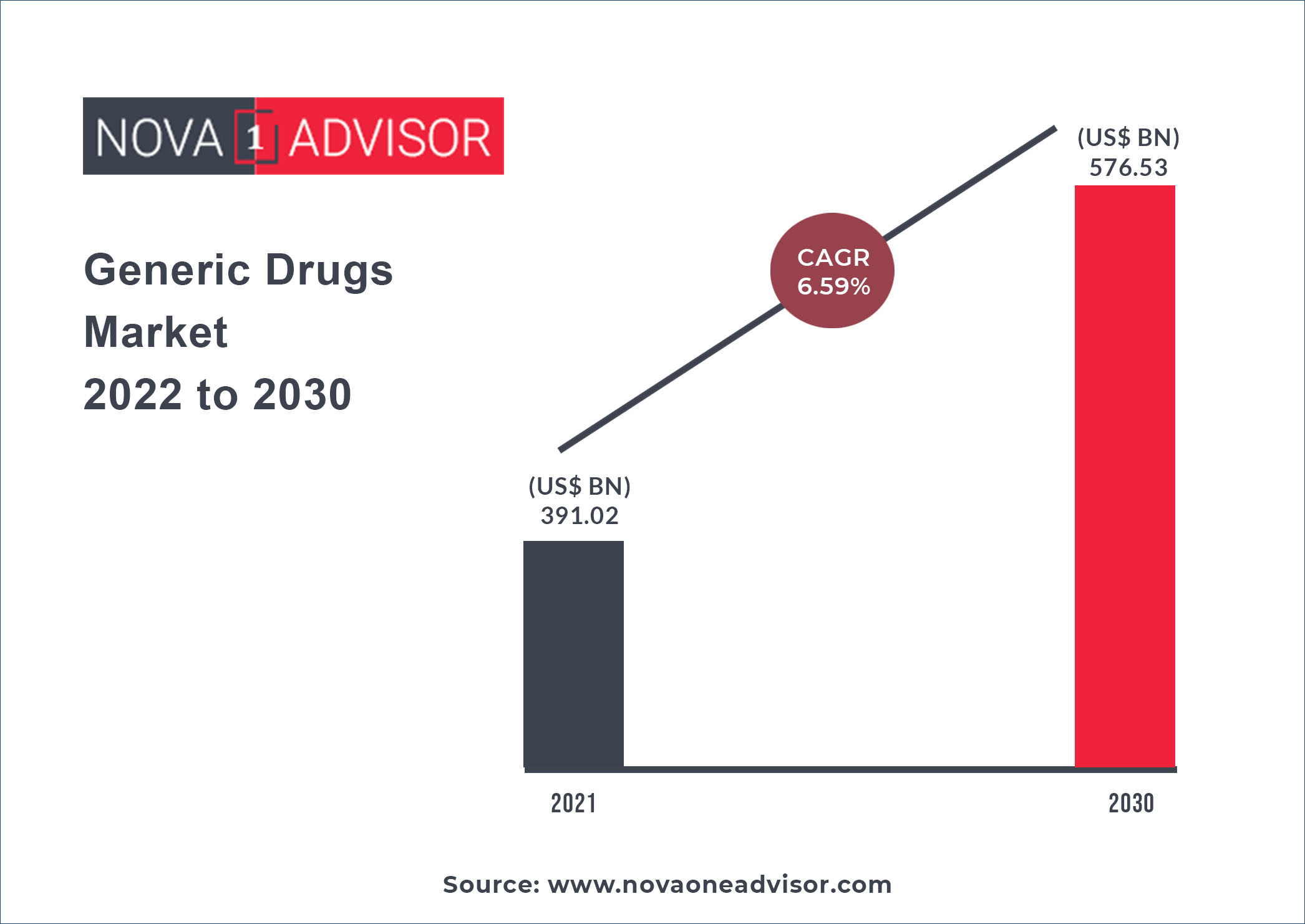 Growth Factors:
Generic drugs are bioequivalent of branded medicines with the same active ingredients and equivalent therapeutic effects. They also have similar dosages, risks, consequences, side effects, strengths, intended use, and route of administration. They are relatively less expensive than branded drugs, as the production does not require extensive research. Besides this, the production of these drugs does not involve the repetition of clinical and animal studies to measure the effectiveness and safety of the medicine. As a result, generic drugs are gaining immense traction across the globe.
Generic Drugs Market Trends:
The growing global geriatric population and the rising occurrence of chronic medical disorders, such as cancer, diabetes, and cardiovascular diseases, represent one of the key factors positively influencing the market. In addition, changing dietary patterns and hectic schedules of individuals are leading to various conditions, which, in turn, is catalyzing the demand for generic drugs worldwide. Along with this, increasing efforts by governments of various countries to reduce healthcare costs and promote the manufacturing and uptake of generics are contributing to the market growth. They are also encouraging key players to introduce effective generic drugs and provide easy availability. Apart from this, the low production cost of generic medicines is creating a positive outlook for the market. Additionally, the expansion of the pharma companies and medical stores across the globe is further augmenting the market growth. Furthermore, the rising focus of leading manufacturers on partnership strategies to launch new products is propelling the market growth. Moreover, increasing investments in extensive research and development (R&D) activities and technological advancements in medicine formulation are anticipated to drive the market.
Report Scope of the Generic Drugs Market
| | |
| --- | --- |
| Report Highlights | Details |
| Market Size | US$ 576.53 Billion by 2030 |
| Growth Rate | CAGR of 6.59% From 2022 to 2030 |
| Base Year | 2020 |
| Historic Data | 2017 to 2021 |
| Forecast Period | 2022 to 2030 |
| Segments Covered | Drug, Brand, Route of Drug Administration, Therapeutic Application, Distribution Channel |
| Regional Scope | North America, Europe, Asia Pacific, Latin America, Middle East & Africa (MEA) |
| Companies Mentioned | Mylan N.V., Abbott Laboratories, ALLERGAN, Teva Pharmaceutical Industries Ltd., Eli Lilly and Company, STADA Arzneimittel AG, GlaxoSmithKline Plc., Baxter International Inc., Pfizer Inc., Sandoz International GmbH |
COVID-19 Impact on Global Generic Drugs Market
The outburst of COVID-19 has affected most of the world's main markets, generic drugs market is no exception. The Covid-19 pandemic has influenced leading countries across the world including China, India, the U.S., and other nations. Upsurge in the cost of raw materials and drugs owing to supply chain disruption, lockdown situations has affected growth of the generic drugs industry. This is due to; around 13% of brand and generic manufacturers are based in China and 24% of medicines and 31% of medicinal ingredients were imported from India.The pharmaceutical supply chain is easily broken and the impact of Covid-19 has taken it to the fore once again. The API plant for these is often overseas, with India and China dominating the API market. The API can be produced in a single plant and, at each level, has very little inventory. However, COVID-19 is gradually solving the problem, with most businesses starting their facilities at full capacity.
North America is estimated to be the Largest Market for Generic Drugs
The study report covers key trends and prospects of generic drugs products across different geographical regions including North America, Europe, Asia-Pacific, Latin America, Middle East, and Africa. Geographically, generic drugs market is conquered by North America owing to initiatives by governments and other regulatory bodies, rising geriatric population, growing prevalence of the chronic diseases, and growth in the number of patent expired branded drugs. North america garnered revenue share of over 36.9% in 2020.
Asia Pacific generic drugs industry market is estimated to grow at noteworthy growth rate in the next 10 years. Asia-Pacific has placed a strong emphasis on boosting medicine procurement at more inexpensive prices, even if this necessitates buying from non-traditional sources. With a historically low rate of generic drug use, Japan, for example, witnessed a penetration climb from 30% to 68 percent over the last decade, with an aspiration to reach 80%. However, growth is slowing, and the economy is starting to suffer. Along with "value-based" healthcare reform attempts, procurement groups are merging, putting enormous pressure on top-line pricing points.
Some of the prominent players in the Generic Drugs Market include:
Mylan N.V.

Abbott Laboratories

ALLERGAN

Teva Pharmaceutical Industries Ltd.

Eli Lilly and Company

STADA Arzneimittel AG

GlaxoSmithKline Plc.

Baxter International Inc.

Pfizer Inc.

Sandoz International GmbH
For the better understanding the recent situation of the global generic drugs market and for most policies of the country, Precedence Research forecast the future evolution of the generic drugs industry. This research study offers qualitative and measureable insights on generic drugs market and valuation of market size and development trends for global market segments.
Key Market Developments:
In March 2020, Allergan acquired Envy Medical, a biotechnology company providing dermatology and medical aesthetics solutions

In September 2020, Allergan acquired Bonti Endurance Biotech, a biotechnology company based in Orange, California.

In 2020, Allergan has acquired Elastagen a leading player. This is order to increase the product portfolio which helps to maintain skin's elasticity.
Major Market Segments Covered:
By Brand
Pure generic drugs

Branded generic drugs
By Route of Drug Administration
Oral

Topical

Parental

Others
By Therapeutic Application
Key Distribution Channel
Hospitals Pharmacies

Retail Pharmacies

Others
By Geography
North America
Europe
Germany

France

United Kingdom

Rest of Europe
Asia Pacific
China

Japan

India

Southeast Asia

Rest of Asia Pacific
Latin America
Brazil

Rest of Latin America
Middle East & Africa (MEA)
Key Points Covered in Generic Drugs Market Study:
Growth of Generic Drugs in 2022

Market Estimates and Forecasts (2017-2030)

Brand Share and Market Share Analysis

Key Drivers and Restraints Shaping Market Growth

Segment-wise, Country-wise, and Region-wise Analysis

Competition Mapping and Benchmarking

Recommendation on Key Winning Strategies

COVID-19 Impact on Demand for Generic Drugs and How to Navigate

Key Product Innovations and Regulatory Climate

Generic Drugs Consumption Analysis

Generic Drugs Production Analysis

Generic Drugs and Management