The global Solid Oxide Fuel Cell market size accounted for USD 2.42 billion in 2022 and is estimated to achieve a market size of USD 26.78 billion by 2032 growing at a CAGR of 2.42% from 2023 to 2032.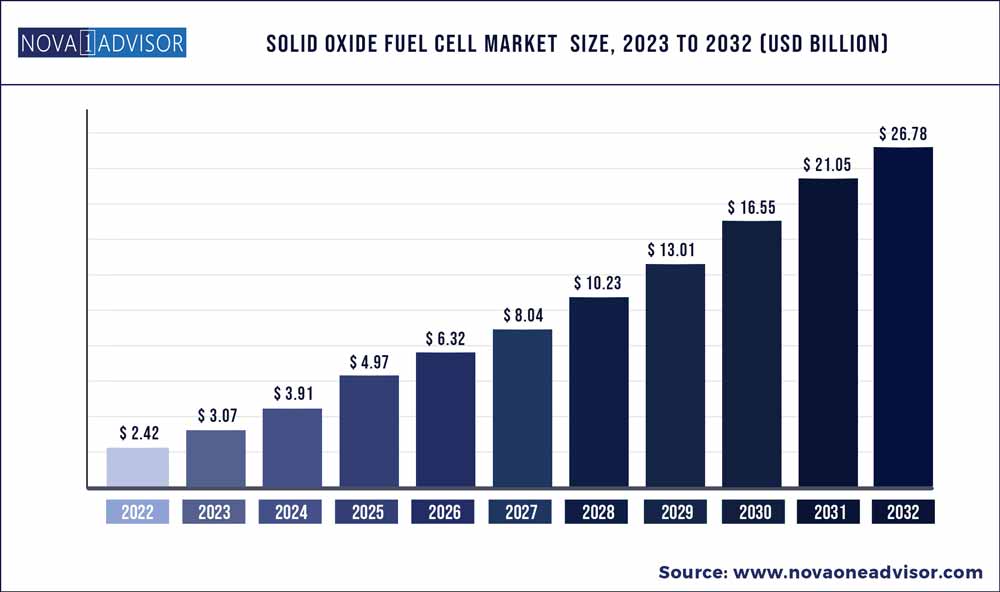 Key Pointers:
By Application, the U.S. Solid Oxide Fuel Cell market was valued at USD 219.7 million in 2022 and expected to witness growth at a CAGR of 36.18% from 2023 to 2032.
In terms of revenue, the stationary segment accounted for a prominent market share of 82.19% during 2022 and is further expected to witness major growth during the forecast period
As of 2021, the Asia Pacific accounted for 47.58% revenue share in the overall SOFC market
In Europe, Germany dominated the market by the revenue share during 2022
Solid Oxide Fuel Cell Market Report Scope
| | |
| --- | --- |
| Report Coverage | Details |
| Market Size in 2023 | USD 3.07 Billion |
| Market Size by 2032 | USD 26.78 Billion |
| Growth Rate from 2023 to 2032 | CAGR of 27.19% |
| Base year | 2022 |
| Forecast period | 2023 to 2032 |
| Segments covered | Type, Application, End User, Geography |
| Regional scope | North America; Europe; Asia Pacific; Central and South America; the Middle East and Africa |
| Key companies profiled | Adaptive Energy LLC, Adelan Ltd., Aisin Corporation, Atrex Energy Inc., AVL (Austria), Bloom Energy Corporation Bosch (Germany), Catator AB (Sweden), Ceramic Fuel Cells Limited, Ceres Power Holdings plc, Convion ltd. (Finland), Cummins Inc., Elcogen AS (Estonia), FuelCell Energy, Inc. (U.S.), Fuji Electric Co. Ltd., General Electric, h2e Power (India), Hexis AG, Hitachi Zosen Corporation (Japan), Kyocera Corporation (Japan), Mitsubishi Hitachi Power Systems, Ltd., Miura (Japan), Nexceris, LLC (U.S.), NGK SPARK PLUG CO., LTD., Ningbo SOFCMAN Energy, POSCO Energy, Robert Bosch GmbH, Rolls-Royce Fuel Cell Systems Ltd., Solid Power (Italy), Sunfire GmbH (Germany), Suzhou Huatsing Jingkun New Energy Technology Co., Ltd. (China), Ultra-Electronics Holdings Plc, Upstart power (US), Watt fuel cell corporation (US), ZTEK Corporation (US) |
Solid Oxide Fuel Cell Market Dynamics
Driver: Government subsidies and increased R&D on fuel cell programs
Government policies and incentives provided for fuel cells are some of the important driving factors for the growth of the solid oxide fuel cell industry. States such as California, Delaware, and Connecticut lead in fuel cell programs and offer incentives and subsidies for fuel cell installations, leading to SOFC and other fuel installations in the US. Previously, in the US, fuel cells installed until 31st December 2016 were eligible for a tax rebate of USD3,000/kW or 30% of the cost of the project. The Self-Generation Incentive Program (SGIP) of California supports the existing, new, and emerging distributed electricity generation through rebates for generators. California had authorized a budget of USD 566 million for SGIP until 2019; however, the program has further been extended, with the latest development being a workshop held by the Energy Division on SGIP Renewable Generation.
In Asia Pacific, China, Japan, and South Korea are the prominent countries that are emphasizing the growth of fuel cells for various applications, including utility-scale power generation. In 2019, China's Ministry of Finance, Ministry of Industry and Information Technology (MIIT), Ministry of Science and Technology, and National Development and Reform Commission jointly announced subsidies for new energy vehicles. In addition, companies such as Bloom Energy and its subsidiaries have been working closely with the South Korean government to set up utility-scale power plants based on SOFC. Additionally, 2 different utility-scale power plants of 19.8 MW and 8.1 MW will be installed over the years in 2 different cities. Moreover, SK E&C (Bloom Energy) and South Korean authorities have signed a contract to develop an SOFC-based microgrid by 2022. These factors are the prime reasons for the growth of SOFC in Asia Pacific and North America.
Restraint: High capital costs required for SOFC
SOFC are a complex integration of different chemical elements for the electro-catalytic oxidation of methane, LP gas, and other natural gas-based fuels to generate electricity. Since the basic chemical process is an exothermic reaction, SOFC usually operate at very high temperatures, typically ranging from 700°C to 1,200°C. Conventional ceramic electrolytes do not offer high operational efficiency at such temperatures; therefore, yttria-stabilized zirconia (YSZ) is required as an electrolyte. Further, a study conducted by a US research institution concluded that cell performance increases further when YSZ composite electrodes are also used with the electrolyte. Zirconium is an element that has titanium-like properties and has an extremely high melting temperature of 1,852°C. However, the cost of per unit zirconium is almost double the per-unit cost of conventional ceramic-based electrolytes. This increases fuel cell manufacturing and installation costs, which is one of the major restraints for this market.
Opportunity: Increasing adoption by end users in data centers and military sector
Data centers are the fastest-growing end users for the power generation application in the US. Operating a data center is highly power consuming and power intensive. Additionally, data centers require uninterrupted power 24*7 so as to minimize the loss of valuable data. According to the IEEE Communications Society, globally, electricity demand from data centers in 2018 was an estimated 198-terawatt hour or almost 1% of demand for electricity in the world. Due to the high consumption of power, data centers are opting for cost reductions by adopting distributed power generation, particularly fuel cells. Fuel cells, including SOFC, have previously seen tremendous growth in the US. SOFC adoption for data centers by Google, IBM, and Equinix has stimulated growth at the fastest rate in the US SOFC market. Currently, the total SOFC adoption by data centers is still minuscule with respect to the total data centers in the US, thus making it one of the most lucrative end-use segments for SOFC.
In the military sector, stationary and portable power generation by SOFC is on the rise. Additionally, the need for noiseless and efficient power generation for military application creates an opportunity for SOFC in this segment. The developments in SOFC portable applications for the military application are expected to increase with newer opportunities for the growth of this market further.
Challenge: High operating temperatures and start-up time of SOFC
SOFC require a longer duration for starting up operation when compared to other fuel cell technologies. Being a high-temperature technology, SOFC require time to reach a critical operating temperature to function at full capacity, thus contributing to higher start-up time. In addition, the operation of an SOFC releases a high amount of heat into the surrounding, which significantly increases the need for good thermal shielding, ultimately increasing its weight. These are the main reasons why SOFC have a low market share in portable applications and emergency power applications. The development of SOFC systems with lower start-up times is still in the initial stage. Currently, companies such as SOLIDPower, Sunfire, and Bloom Energy are investing in R&D to overcome the technical challenges associated with SOFC.
The planar segment, by product type, is expected to be the largest market from 2023 to 2032
The planar segment held the largest share of the solid oxide fuel cell market. . The growth is evident owing to the simple geometry and relatively easier construction process. Planar type of solid oxide fuel cells is typically designed in such a way that the ceramic fuel cell modules are arranged one above the other in a sandwich-type design with the electrolyte inserted between the electrodes.
The Stationary segment, by application is expected to be the largest market from 2023 to 2032
The stationary segment of the market, by application, is estimated to be the largest during the forecast period. The growth of the stationary segment is driven by the increasing focus on hydrogen-powered fuel cells for back-up power. The market for the stationary segment in Asia Pacific is expected to grow at the highest CAGR during the forecast period due to the fact that the governments of South Korea, China, and Japan are highly focusing on utilizing renewable energy and hence opting for utility-scale SOFC power plant.
North America: The largest region in the solid oxide fuel cell market in the year 2022.
The region has been segmented, by country, into US and Canada. US is the largest and fastest-growing market in the region. The growth in this country can be attributed to the high demand for fuel cell power generation, as well as increasing research and development for hydrogen generation. In addition, government policies and subsidies, including the Department of Energy's (DoE's) Solid State Energy Conversion Alliance (SECA) Program, are the prime driving factors for growth in the US market.
Recent developments:
Blooming Technologies introduced the Hydrogen - based Servers in Sept 2021. This device could provide on-site energy fueled by hydrogen & utilizes a partial oxidation stack. Such electrolytes were anticipated to start shipping commercially in 2022. Together with the SK Eco plant, those computers were put through a five-month testing period in South Korea.
To improve their important research division, Aisin Company, and Automotive AW, both members of the Aisin Family, aimed to consolidate their administration in Aug 2020. Due to such an integration's improvement of based tasks' and assets' effectiveness, an innovative introduce a new approach was produced.
Mitsubishi Electric and Asahi Standards & Technologies, Ltd., respectively, inked a deal in August 2020 for the supply of MEGAMIE solid-oxide fuel cells (SOFC) units for a development program. The Zero Carbon Technologies Investigation, Research, and Application Programme of the Japanese government include this initiative. Under such an Asahi Quality, initiative, & Technologies, Ltd., carried out trials to produce electricity using tiny SOFC units using the utility function of the sewage from Ibaraki Brewery. The testing revealed that now the device, which was certified at 200 kW, produced energy continuously for 10,000 hours. It provided approximately 1,600 MWh of electricity while reducing carbon dioxide emissions by about 1,000 tons per annum. Sumitomo Mitsui Financing and Renting Co., Ltd. used a leasing plan to pay for this development.
Hitachi participated in the creation of the Hydrocarbons multi-resource system in Nov 2021. It will see the development of a SOFC mixed cogeneration plant by Hitachi.
Weichai, CERES, & Bosch decided to develop multiple cooperation to seek prospects in China throughout Feb 2022. There will 2 distinct joint development agreements. The very first one will consist of a 3-platform joint venture (or "System JV") for the design and production of solid oxide cell devices. The establishment of the next partnership, known as the "Stack JV," will provide hydrogen fuel stacks to the systems JV and possibly additional third - parties.
CERES funded in projects in Sept 2021 to find the best ways to use SOFC innovation in megawatt cruise ships. The United Kingdom Transportation Department obtained the funds.
Some of the prominent players in the Solid Oxide Fuel Cell Market include:
Adaptive Energy LLC
Adelan Ltd.
Aisin Corporation
Atrex Energy Inc.
AVL (Austria)
Bloom Energy Corporation
Bosch (Germany)
Catator AB (Sweden)
Ceramic Fuel Cells Limited
Ceres Power Holdings plc
Convion ltd. (Finland)
Cummins Inc.
Elcogen AS (Estonia)
FuelCell Energy, Inc. (U.S.)
Fuji Electric Co. Ltd.
General Electric
h2e Power (India)
Hexis AG
Hitachi Zosen Corporation (Japan)
Kyocera Corporation (Japan)
Mitsubishi Hitachi Power Systems, Ltd.
Miura (Japan)
Nexceris, LLC (U.S.)
NGK SPARK PLUG CO., LTD.
Ningbo SOFCMAN Energy
POSCO Energy
Robert Bosch GmbH
Rolls-Royce Fuel Cell Systems Ltd.
Solid Power (Italy)
Sunfire GmbH (Germany)
Suzhou Huatsing Jingkun New Energy Technology Co., Ltd. (China)
Ultra-Electronics Holdings Plc
Upstart power (US)
Watt fuel cell corporation (US)
ZTEK Corporation (US)
Segments Covered in the Report
This report forecasts revenue growth at global, regional, and country levels and provides an analysis of the latest industry trends in each of the sub-segments from 2018 to 2032. For this study, Nova one advisor, Inc. has segmented the global Solid Oxide Fuel Cell market.
By Type
By Application
Portable
Stationary
Transport
By End User
Commercial & Industrial
Data Centers
Military & Defense
Residentials
By Region
North America
Europe
Asia-Pacific
Latin America
Middle East & Africa (MEA)