Automotive Electronics Market Size, Share & Trends Analysis Report By Component (Electronic Control Unit, Sensors, Current Carrying Devices), By Application, By Sales Channel- Global Industry Analysis, Share, Growth, Regional Outlook and Forecasts, 2022-2030
The global Automotive Electronics market gathered revenue around USD 221.56 billion in 2021 and market is set to grow USD 402.49 billion by the end of 2030 and is estimated to expand at a modest CAGR of 8.9% during the prediction period 2022 to 2030.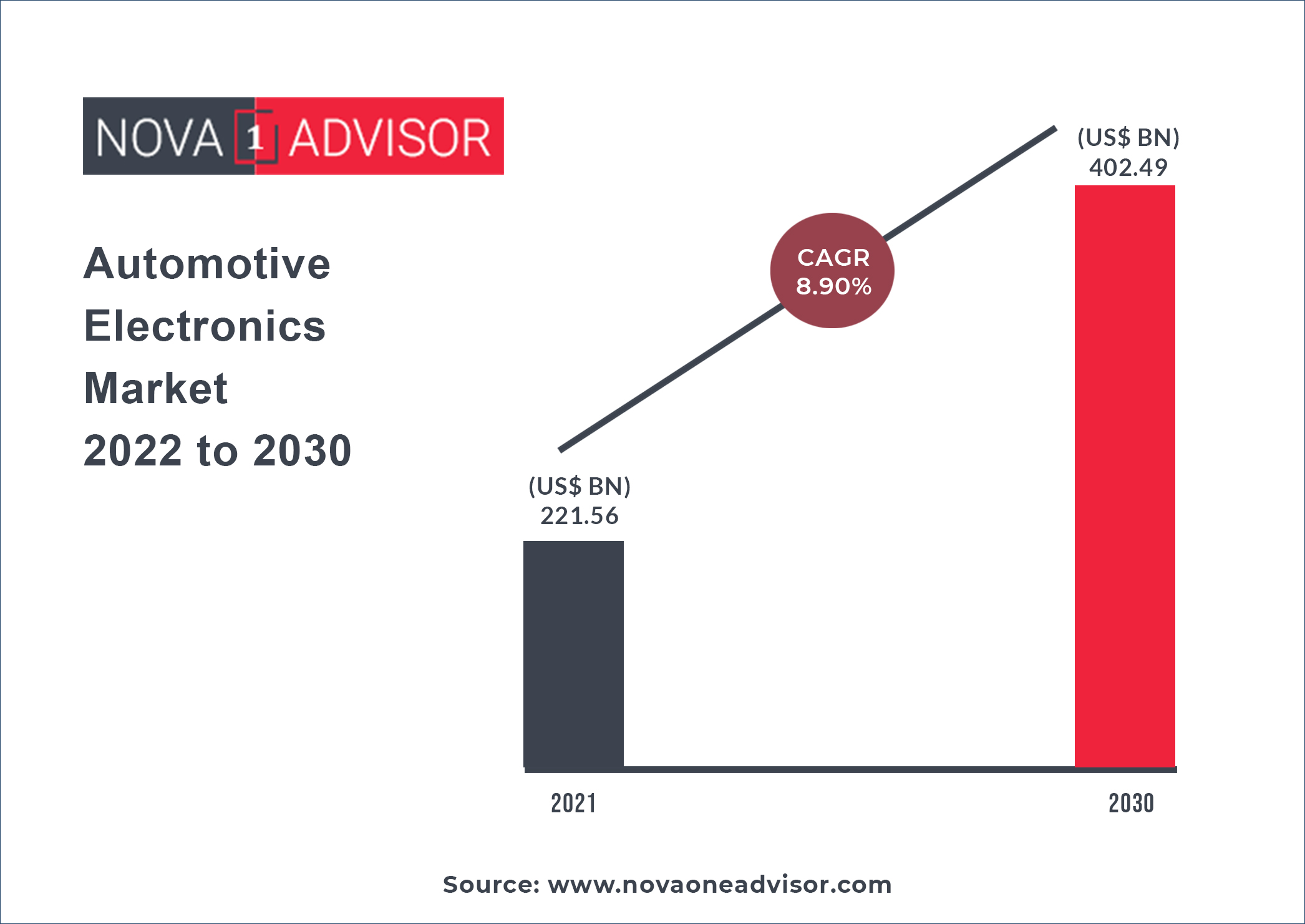 Growth Factors:
Increasing safety and security concerns to curb the rising road fatalities in developed and developing economies across the globe are the factors anticipated to drive the demand for automotive electronics. The rising demand for electric vehicles, autonomous vehicles, and state-of-the-art vehicle technology is also expected to fuel the market growth. Accident data recorder systems, emergency call systems, and alcohol ignition interlocks are some of the prominent technologically advanced features that are expected to drive the market growth over the forecast period.
The availability of advanced safety systems with features such as blind-spot detection and automatic emergency braking at lower costs has led to the increased implementation of these systems. This, in turn, is expected to boost the adoption of automotive ECUs and sensors used in these systems, subsequently fueling the market growth. Moreover, these features adhere to government rules and regulations and are anticipated to pave the way for adopting autonomous vehicles. The ECUs and sensors are used for controlling the electronic functions in these vehicles, thereby increasing the demand for these components.
The market for automotive electronics is also affected by the recent semiconductor chip shortages globally. The semiconductor chip supply crunch, powered by the pandemic supply-chain gyrations and rising demand, has majorly affected the automakers, forcing them to temporarily halt production in their factories. In April 2021, General Motors and Ford announced plans to temporarily shut down their factories due to a shortage of semiconductor chips. The chaotic ordering from the automotive OEMs makes it harder for chipmakers to understand where they need to allocate supply to meet the real and short-term needs.
Report Coverage
Report Scope
Details
Market Size
USD 402.49

billion

by 2030

Growth Rate

CAGR of

8.9

% From 2022 to 2030

Base Year

2021

Forecast Period

2022 to 2030

Report coverage

Growth Factors, Revenue Status, Competitive Landscape, and Future Trends

Segments Covered

Component, application, sales channel, Region



Regional Scope

North America, Europe, Asia Pacific, Latin America, Middle East & Africa (MEA)

Companies Mentioned

Continental AG; DENSO Corporation; Hella GmbH & Co. Kgaa; Infineon Technologies AG; Robert Bosch GmbH; Valeo Inc.; ZF Friedrichshafen AG; Hitachi Automotive Systems, Ltd.; Visteon Corporation; Xilinx, Inc.
Component Insights
The current carrying devices segment accounted for the largest revenue share of around 42% in 2021. Current carrying devices comprise products such as electronic switches, fuses, connectors, and wiring harnesses. The high cost and a large number of electronic components such as electronic switches, fuses, connectors, and wiring harness used in the vehicle are responsible for the significant market share of current-carrying devices in the component segment. The growth of this segment can be also be attributed to the rising demand for connectivity, convenience, and safety features in passenger cars as well as commercial vehicles.
The sensors segment is projected to register a CAGR of 4.6% from 2021 to 2030. The sensors segment comprises sensing devices that are used in the detection of physical parameters, proximity, and positioning of the vehicle, chemical properties, as well as process variables. Favorable government initiatives for passenger safety and security in various regions are expected to drive revenue growth.
Application Insights
The safety systems segment accounted for the largest share of around 29% of the overall market in 2020. Safety systems comprise components such as airbags, tire pressure monitoring systems, keyless entry systems, electronic brake distribution, electronic stability control, electric power steering, and suspension control, among others. Increasing customer awareness about technological changes related to safety equipment in vehicles is expected to act as a potential driver for the growth of the safety systems segment.
The Advanced Driver Assistance System (ADAS) segment is estimated to register a CAGR exceeding 11.2% from 2021 to 2030. The demand for ADAS sensors is increasing exponentially owing to the increased application and functionalities that these sensors offer. Sensors form an essential part of ADAS. From primary stereo cameras to the latest LiDAR, sensors are utilized individually or in combination to perform complicated functions.
Sales Channel Insights
The OEM segment accounted for the largest share of around 68% in 2020. The OEM segment dominated the automotive electronics market in 2020, owing to the increased durability and shelf-life of electronic components. Since electronic components form an integral part of the vehicles, consumers prefer buying them through OEMs to obtain genuine parts. Furthermore, with the increase in the design complexity of these electronic components, aftermarket electronic components are expected to account for a lower revenue share over the forecast period.
The aftermarket segment is estimated to register a CAGR exceeding 7.1% from 2021 to 2030. Aftermarket denotes the secondary market of the automotive industry concerned with the manufacturing, remanufacturing, distribution, retailing, and installation of all vehicle electronic parts and accessories after the sale of the automobile by the OEM to the consumer.
Regional Insights
The Asia Pacific market accounted for the largest revenue share of over 41.2% in 2021 and is anticipated to continue its dominance over the forecast period with a CAGR exceeding 9.2%. Countries such as Taiwan, South Korea, Malaysia, and Thailand have significantly contributed to the market growth owing to the flourishing electronic component manufacturing activities. Most of the automotive electronics demand in the Asia Pacific is fulfilled from China and Japan. However, the limited number of automotive electronics manufacturers poses an excellent investment opportunity for regional suppliers to capitalize on the local demand, thereby making the rest of the Asia Pacific regions an attractive place for investors.
The market in North America is expected to experience significant growth owing to the high level of motor vehicle production and the presence of automotive electronic component manufacturers such as TRW Automotive; Continental Corporation; Robert Bosch GmbH; and Autoliv, Inc.
Competitive Rivalry
Foremost players in the market are attentive on adopting corporation strategies to enhance their market share. Some of the prominent tactics undertaken by leading market participants in order to sustain the fierce market completion include collaborations, acquisitions, substantial spending in R&D and the improvement of new-fangled products or reforms among others.
Major manufacturers & their revenues, percentage splits, market shares, growth rates and breakdowns of the product markets are determined through secondary sources and verified through the primary sources.
Company Overview

Company Market Share/Positioning Analysis

Product Offerings

Financial Performance

Recent Initiatives

Key Strategies Adopted by Players

Vendor Landscape

List of Suppliers

List of Buyers
Some of the prominent players in the Automotive Electronics Market include:
Continental AG

DENSO Corporation

Hella GmbH& Co. KGaA

Infineon Technologies AG

Robert Bosch GmbH

Valeo Inc.

ZF Friedrichshafen AG

Hitachi Automotive Systems, Ltd.

Visteon Corporation

Xilinx, Inc.
Segments Covered in the Report
This research report offers market revenue, sales volume, production assessment and prognoses by classifying it on the basis of various aspects. Further, this research study investigates market size, production, consumption and its development trends at global, regional, and country level for the period of 2017 to 2030 and covers subsequent region in its scope:
Electronic Control Unit

Sensors

Current Carrying Devices

Others

By Application

ADAS

Infotainment

Body Electronics

Safety Systems

Powertrain Electronics

By Sales Channel
By Geography
North America
Europe
Germany

France

United Kingdom

Rest of Europe
Asia Pacific
China

Japan

India

Southeast Asia

Rest of Asia Pacific
Latin America
Brazil

Rest of Latin America
Middle East & Africa (MEA)
GCC

North Africa

South Africa

Rest of Middle East & Africa
Research Methodology
In the study, a unique research methodology is utilized to conduct extensive research on the growth of the Automotive Electronics market, and reach conclusions on the future growth parameters of the market. This research methodology is a combination of primary and secondary research, which helps analysts ensure the accuracy and reliability of the conclusions.
Secondary resources referred to by analysts during the production of the Automotive Electronics market study are as follows - statistics from government organizations, trade journals, white papers, and internal and external proprietary databases. Analysts have also interviewed senior managers, product portfolio managers, CEOs, VPs, marketing/product managers, and market intelligence managers, all of whom have contributed to the development of this report as a primary resource.
Comprehensive information acquired from primary and secondary resources acts as a validation from companies in the market, and makes the projections on the growth prospects of the Automotive Electronics markets more accurate and reliable.
Secondary Research
It involves company databases such as Hoover's: This assists us recognize financial information, structure of the market participants and industry competitive landscape.
The secondary research sources referred in the process are as follows:
Governmental bodies, and organizations creating economic policies

National and international social welfare institutions

Company websites, financial reports and SEC filings, broker and investor reports

Related patent and regulatory databases

Statistical databases and market reports

Corporate Presentations, news, press release, and specification sheet of Manufacturers
Primary Research
Primary research includes face-to face interviews, online surveys, and telephonic interviews.
Means of primary research: Email interactions, telephonic discussions and Questionnaire based research etc.

In order to validate our research findings and analysis we conduct primary interviews of key industry participants. Insights from primary respondents help in validating the secondary research findings. It also develops Research Team's expertise and market understanding.
Industry participants involved in this research study include:
CEOs, VPs, market intelligence managers

Procuring and national sales managers technical personnel, distributors and resellers

Research analysts and key opinion leaders from various domains
Key Points Covered in Automotive Electronics Market Study:
Growth of Automotive Electronics in 2022

Market Estimates and Forecasts (2017-2030)

Brand Share and Market Share Analysis

Key Drivers and Restraints Shaping Market Growth

Segment-wise, Country-wise, and Region-wise Analysis

Competition Mapping and Benchmarking

Recommendation on Key Winning Strategies

COVID-19 Impact on Demand for Automotive Electronics and How to Navigate

Key Product Innovations and Regulatory Climate

Automotive Electronics Consumption Analysis

Automotive Electronics Production Analysis

Automotive Electronics and Management