The global Biologics market size was exhibited at USD 395.44 billion in 2022 and is projected to hit around USD 845.86 billion by 2032, growing at a CAGR of 7.9% during the forecast period 2023 to 2032.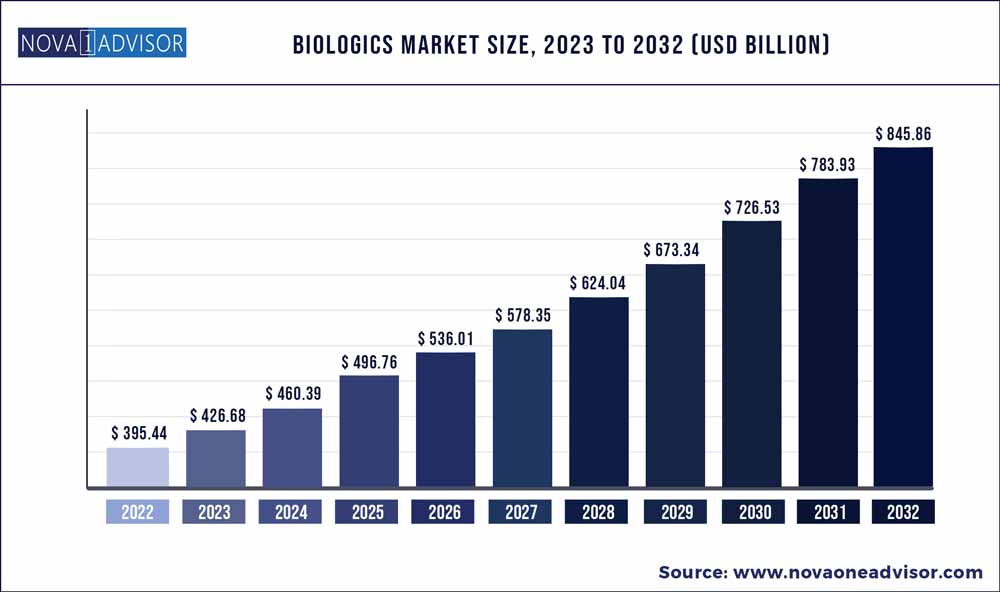 Key Pointers:
By Disease Category, the U.S. Biologics market was valued at USD 198.2 Billion in 2022 and expected to witness growth at a CAGR of 4.6% from 2022 to 2030.
North America biologics market accounted for the largest share of 78.54% in 2022
Microbial expression systems dominated the market with respect to biopharmaceutical manufacturing
Presence of substantial number of products manufactured through the use of microbial sources can be attributed for largest share
Higher usage of monoclonal antibodies for the treatment of different diseases responsible for revenue generation
Moreover, pipeline drugs in the phase of development anticipated to bolster growth
Significant development pertaining to vaccines and increasing adoption anticipated to fuel progress
Oncology dominated over a decade and is expected to sustain its share over the forecast period.
Introduction of novel biologics with high efficacy coupled with the augmenting incidences of cancer is the vital impact rendering factor.
Substantial sales of biologics in the U.S. can be attributed for the largest share of North American market.
Established participants are implementing the manufacture of complex moieties in-house, which pronounces for the larger share of in-house manufacturing.
Asia Pacific is projected to showcase fastest growth in the coming years.
Increasing penetration of the biologics in the developing economies is expected to contribute in the projected growth.
Moreover, the university based projects implemented herein are attributive for the projected growth.
These participants are investing in the hybrid business models through providing technology and service platforms.
Such milestones and royalties from partnered programs enables the cash flow generation which can be utilized in proprietary R&D.
Biologics Market Report Scope
| | |
| --- | --- |
| Report Coverage | Details |
| Market Size in 2023 | USD 426.68 Billion |
| Market Size by 2032 | USD 845.86 Billion |
| Growth Rate from 2023 to 2032 | CAGR of 7.9% |
| Base year | 2022 |
| Forecast period | 2023 to 2032 |
| Segments covered | Source, Product, Disease, Manufacturing, Route of Administration, Drug Classification, Mode of Purchase, Distribution Channel, Geography |
| Regional scope | North America; Europe; Asia Pacific; Central and South America; the Middle East and Africa |
| Key companies profiled | Eli Lilly & Company, Samsung Biologics, F Hoffman La Roche, Celltrion Addgene, Amgen, Abbvie Inc., Sanofi, Pfizer Inc., Merck & Co. Inc, Novo Nordisk A/S |
Introduction of targeted therapies coupled with rising adoption of patient centric personalized medicine anticipated to fuel demand. Ever-increasing understanding of the cell physiology and stress, as well as the factors involved in protein production and heterologous gene expression have empowered the use of different living factories.
These living factories are the prokaryotic and eukaryotic cells. Enhancement of drug functionality through achieving successful protein folding and post-translational modifications is supportive for projected progress rate.
Moreover, rising adoption of biopharmaceuticals over chemically synthesized molecules is expected to propel revenue generation significantly. In addition to this, presence of several metabolic disorders that can be treated through the use of biologics is attributive to influence demand.
Combination of advanced bioengineering technologies for biopharmaceutical production is expected to boost progress in pharmaceutical industry. With recent advances in automation, the selection process can be done through high throughput screening (HTS) system for selection of viable clones.
Aforementioned method enables robust production of biopharmaceutical products by obtaining high-producing cell line. Advances with respect to upstream and downstream processing would directly translate into the growth in revenue for this market at a larger level.
However, development of biosimilars is expected to restrain the biologics year on year growth to certain extent. Although, the regulatory approval pathway for these products is not framed yet some drug manufacturers are opting to invest in the development of biobetters.
Source Insights
On the basis of the source used for the manufacturing of these biopharmaceuticals, they are categorized into mainly microbial, mammalian, with an addition of some other sources including transgenic models, avian, insect, and transgenic animals.
Microbial expression systems registered the largest revenue generation due to a substantial number of drugs generated by using these products. Microbial expression systems typically cover Escherichia Coli and yeast.
Products developed through these expression systems include recombinant insulin, platelet-derived growth factor, granulocyte-macrophage colony-stimulating factor, and recombinant interferon. Johnson & Johnson, Novartis, and Genentech are the companies implementing the usage of microbial systems.
Product Insights
Monoclonal antibodies (MABs) dominated the market with the largest revenue share due to higher usage of this category of drugs in different therapeutic areas. MABs allow targeting of unhealthy cells without harming the healthy cells.
Moreover, these drugs are particularly useful in cancer management, treatment of autoimmune diseases, including rheumatoid arthritis. Vaccines are anticipated to witness the fastest growth in the coming years owing to usage as a preventative tool in infectious diseases.
The development of a virus-based therapeutic vaccine is in the process of development for melanoma treatment. This is a genetically-modified product for in tumor cells and expresses a gene for an immune-stimulating protein.
Manufacturing Insights
Manufacturing is a part of the major steps of biologics production and comprises of a significant share of the biologics market. Mode of manufacturing is an important aspect to be considered, as it represents the outsourcing and in-house activities of the sector.
Companies are opting to manufacture than to purchase an entity or outsource the services. This has led to the larger share of in-house manufacturing for biologics. Companies are engaged in investing on own bioprocessing capabilities.
There are investments done by the CMOs for increasing the commercial biopharmaceutical manufacturing capacity. But, the value of the outsourcing contracts is comparatively lower than for the overall market and would be unable to drive sector growth as it does in the pharmaceutical market.
Disease Category Insights
Oncology accounted for the largest share as a consequence of the rising incidence of cancer coupled with the presence of different R&D projects. These projects include gene therapies and antisense therapies for cancer eradication.
Furthermore, oncology is anticipated to maintain its dominance over the forecast period. Drivers for the projected growth include the rising adoption of products in order to reduce the series of adverse events associated with the usage of cancer chemotherapy.
Regional Insights
North America biologics market accounted for the largest share of 78.54% in 2022 owing to the presence of major companies, favorable reimbursement policies, and high investment in R&D. Biologics accounts for around 40% of the total drug spending in the United States. Approval of new biologic drugs is expected to further drive market growth during the forecast period, for instance, in 2022, the U.S. FDA gave approval to 21 BLA's. U.S market for biologics accounted for significant share in 2022 owing to rising R&D spending for the biologic development coupled with the presence of large number of FDA approved biologics in the country.
Germany accounts for the highest share in the Europe biologics market. The presence of advanced manufacturing sector, favourable reimbursement, availability of multiple approved drugs and target patient population are contributing to the dominance of this market in Europe.
Continuous efforts by the regulators, policy makers, and the pharmaceutical industry jointly to address both affordability and availability of biologics, especially mAbs, are anticipated to expand the Chinese market size of biologics in the coming years. One of the key drivers responsible for the growth of the Chinese biologic market is continuous proliferation of biologic developing plants in the country. For instance, in November 2022, WuXi Biologics announced the successful launch of GMP operations at it drug production facility in China. The 12,000 m2 plant will manufacture around 60 million vials for commercial drug every year.
Key Developments
Moderna Inc., announced in August 2021 that it had completed the rolling submission process for its Biologics License Application to the FDA for full licensure of the Moderna COVID-19 vaccine for active immunization to prevent COVID-19 in people aged 18 and up.
Pfizer Inc. and BioNTech SE declared in August 2021 that they had started a supplemental Biologics License Application with the FDA for the approval of a booster dose of COMIRNATY to prevent COVID-19 in people aged 16 and up.
As India's biggest biosimilar maker increases its production to generate value to stakeholders ahead of an anticipated initial pubic offering, Biocon Biologics is in talks with ADQ, the Abu Dhabi government's wealth fund, to advance capital.
A South Korean business, Samsung Biologics has committed to work with Eli Lilly & Company on the development of a virus neutralizing antibody for the COVID-19 virus.
In 2020, WuXi Biologics completed purchase of Bayer's drug product manufacturing facility in Germany. WuXi Biologics' first medication production facility in Europe was expected to increase the company's commercial manufacturing capabilities.
In October 2020, Cadila Pharmaceuticals released two similar biologics known as NuPTH and Cadalimab in the Indian market to increase its geographical reach.
Some of the prominent players in the Biologics Market include:
Eli Lilly & Company
Samsung Biologics
F Hoffman La Roche
Celltrion Addgene
Amgen
Abbvie Inc.
Sanofi
Pfizer Inc.
Merck & Co. Inc
Novo Nordisk A/S
Segments Covered in the Report
This report forecasts revenue growth at global, regional, and country levels and provides an analysis of the latest industry trends in each of the sub-segments from 2018 to 2032. For this study, Nova one advisor, Inc. has segmented the global Biologics market.
By Source
Microbial
Mammalian
Others
By Product
MABs
Vaccines
Hormones
Therapeutic Enzymes
Recombinant Proteins
Antisense, RNAi & Molecular Therapy
Blood Factors and Anticoagulants
Allergenic extracts
Human Cells and Tissues
Proteins
Gene Therapies
Cellular Therapies
Others
By Disease
Oncology
Immunological Disorders
Cardiovascular Disorders
Hematological Disorders
Others
By Manufacturing
By Route of Administration
By Drug Classification
Branded Drugs
Generic Drugs
By Mode of Purchase
Prescription Drugs
Over-The-Counter (OTC) Drugs
By Distribution Channel
Hospital Pharmacies
Retail Pharmacies
Online Pharmacies
By Region
North America
Europe
Asia-Pacific
Latin America
Middle East & Africa (MEA)