According to Nova one advisor, the global Biosimilars market size is expected to hit around USD 67.2 billion by 2030 from valued at USD 15.9 billion in 2021 and growing at a CAGR of 17.40% from 2022 to 2030.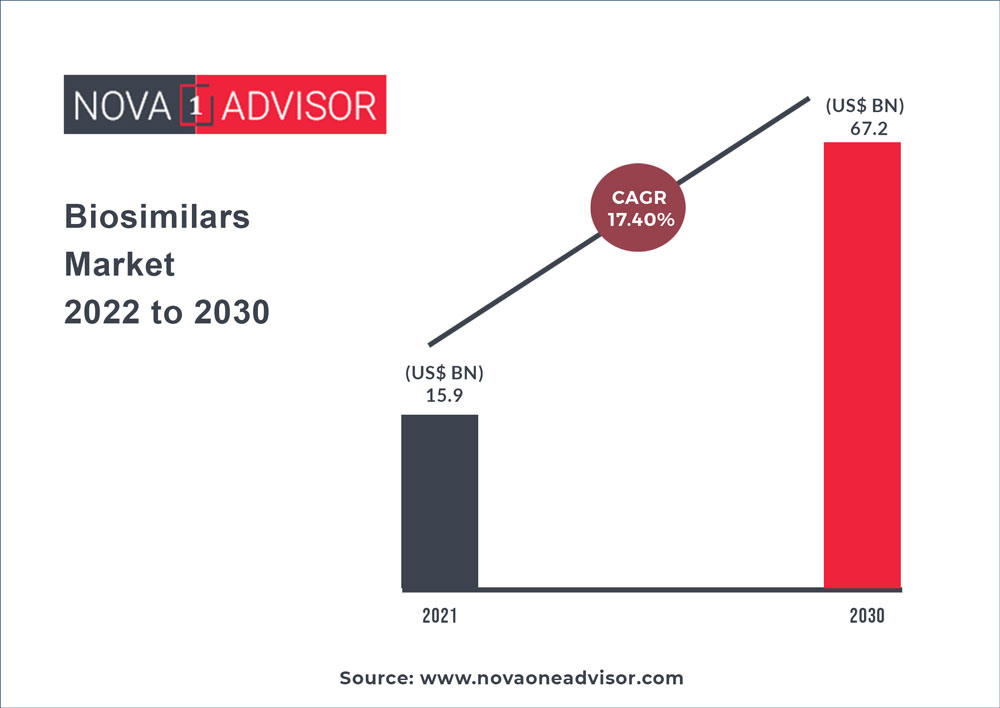 Market growth is largely driven by the rising incidence of chronic diseases and increasing demand of biosimilars for their cost-effectiveness. Regulatory approvals and other regulations favouring biosimilars adoption in different countries is also a major driving factor in the biosimilars market. However, the complexities in the development and manufacturing of biosimilars and resistance from reference biologic manufacturers is expected to restrain the growth of this market during the forecast period.
Report Scope of the Biosimilars Market
| | |
| --- | --- |
| Report Coverage | Details |
| Market Size | USD 67.2 Billion by 2030 |
| Growth Rate | CAGR of 17.40% from 2022 to 2030 |
| Largest Market | North America |
| Fastest Growing Market | Asia Pacific |
| Base Year | 2021 |
| Forecast Period | 2022 to 2030 |
| Segments Covered | Product, Indication, And Region |
| Companies Mentioned | Novartis AG (Switzerland), Pfizer, Inc. (US), Dr. Reddy's Laboratories Ltd. (India), Amgen, Inc. (US), Eli Lilly and Company (US), Teva Pharmaceutical Industries Ltd. (Israel), Fresenius SE & Co. KGaA (Germany), STADA Arzneimittel AG (Germany), Boehringer Ingelheim (Germany), Gedeon Richter PLC (Hungary), Celltrion (South Korea), Samsung Biologics (South Korea), Coherus BioSciences (US), Biocon Limited (India), Viatris, Inc. (US), Amega Biotech (Argentina), Apotex, Inc. (Canada), Biocad (Russia), mAbxience (Spain), Probiomed S.A. De C.V. (Mexico), Fujifilm Kyowa Kirin Biologics Co., Ltd. (Japan), Intas Pharmaceuticals Ltd. (India), Thermex (UK), Reliance Life Sciences (India), Kashiv Biosciences (US) |
Global Biosimilars Market Dynamics
DRIVER: Increasing demand for biosimilar drugs due to their cost-effectiveness
According to American Journal of Managed Care, biosimilars are priced around 20–30% lower than their parent/branded counterparts. This results in both cost-savings and access to highly effective treatments for patients. Biosimilars have lower R&D costs as compared to innovator biologics. Lower R&D costs lower the cost for biosimilars. Lower-priced biosimilars also tend to have a downward effect on the prices of reference biologics through price competition among manufacturers. This significant cost-to-benefit ratio offered by biosimilar drugs is expected to increase their demand in the coming years.
RESTRAINTS: Complexities in manufacturing
The development of biosimilars is a highly complex and costly process that requires significant investments, technical capabilities, clinical trial expertise, scientific standards, and quality systems. Unlike the development of generic medicines, biosimilar manufacturers are required to invest in clinical trials and post-approval safety monitoring programs that are similar to that of the original innovator companies.
Another key challenge in manufacturing biosimilars is the ability to control variability during the manufacturing process, wherein the end products are similar to their biological products. Biosimilars manufactured should comply with set quality standards in terms of safety and efficacy. Regulatory bodies may require additional preclinical and/or clinical data to demonstrate that the manufacturing process does not impact the efficacy or safety of the product and that no variability exists between the biosimilar and the biologic drug.
OPPORTUNITY: Patent expiry of blockbuster biologics and research on new indications
Most early biologic drugs lost their patent protection in the first half of the 20th century, while many of the current best-selling drugs are set to lose their patent protection in the coming years. This is creating new opportunities for biosimilar drugs. By 2023, patents of nearly 20 oncology biologics will expire, which could lead to more biosimilars in the field of oncology.
Currently available biosimilars are used to treat a wide range of diseases and disorders, including cancer, rheumatoid arthritis, infectious disorders, psoriasis, anemia, kidney failure, type 1 and type 2 diabetes, post-menopausal osteoporosis, and growth hormone disorders. The key target therapeutic areas for which various biosimilars are in the pipeline include oncology, autoimmune disorders, diabetes, and hepatitis. Besides these, biosimilars can be developed for other chronic disorders, such as meningitis, breast cancer, adult T-cell leukemia, obesity, hypertension, and hepatitis E.
CHALLENGES: Excess Competition
Competition in the biosimilars market is not just among biosimilar manufacturers but also from originator biologic manufacturers. Upon the entry of new biosimilar products in the market, the originator biologic manufacturer may defend the competition using various means such as the launch of second-generation products, reformulations, dosing improvements, supporting devices, and competing on prices.
The Oncology segment dominated the biosimilars market in 2021:
Based on the indication, the biosimilars market is segmented into oncology, inflammatory and autoimmune diseases, chronic diseases, blood disorders, growth hormone deficiency, infectious diseases, and other indications (infertility, hypoglycemia, myocardial infarction, postmenopausal osteoporosis, chronic kidney failure, and ophthalmic diseases). Oncology is the largest segment in this market owing to the availability of biosimilars at a lower price than innovative biologics and a large number of cancer patients. The availability of biosimilars in the field of oncology has lowered prices and made cancer treatment more affordable and accessible. Also, due to the high incidence and prevalence of cancer, healthcare systems across the globe are focusing on reducing the burden of cancer by adopting cost effective treatment options. In this scenario, biosimilar drugs might witness widespread adoption in major markets such as the US, Europe, and the Asia Pacific. Considering these factors and the upending competition from biosimilars, many major biologic pharmaceutical companies are making significant investments in the development and approval of biosimilar drugs.
The monoclonal antibodies segment accounted for the largest share in 2021
Based on the product, the biosimilars market is segmented into monoclonal antibodies; insulin; Granulocyte Colony-Stimulating Factor; Erythropoietin; Recombinant Human Growth Hormone; Etanercept; Follitropin; Teriparatide; Interferons; Enoxaparin Sodium; Glucagon and Calcitonin. Monoclonal antibodies accounted for a share of around 28%. Monoclonal antibodies and Insulin are seen to be the leading segments with respect to the growth rate during the forecast period as a result of wide applications of monoclonal antibodies in the treatment of cancer, autoimmune disorders and osteoporosis, and rising incidents of insulin dependent diabetes globally and increasing demand for cost-effective treatment options.
Europe was the largest regional market for biosimilars market in 2021.
Geographically, the biosimilars market is segmented Europe, the Asia Pacific, North America, Latin America and Middle East and Africa. In 2021, Europe accounted for the largest share of the biosimilars market, followed by Asia Pacific & North America. Growth in these markets is primarily driven by several factors, such as the impending patent expiry of biologic products and the launch of new biosimilars, the rising incidence of chronic disorders, the emergence of new players and early entry into the market.
On the other hand, North America is estimated to witness a significant growth rate during the forecast period. The growing popularity of the biosimilars in the North America and the presence of numerous market players in the region are investing heavily in the research of the biosimilars, which arew expected to drive the growth of the market in this region. The FDA in US approved around 20 biosimilars in the year 2020. In 2020, Pfizer obtained the FDA approval for its Nyvepria, which is used for lowering the infection incidences. All these factors are anticipated to drive the growth of the biosimilars market in North America, during the forecast period.
Some of the prominent players in the Biosimilars Market include:
Novartis

Synthon Pharmaceuticals, Inc.

TevaPharmaceutical Industries Ltd.

LG Life Sciences

Celltrion

Biocon

Hospira

Merck Serono

Biogen idec, Inc.

Genentech
Segments Covered in the Report
This report forecasts revenue growth at global, regional, and country levels and provides an analysis of the latest industry trends in each of the sub-segments from 2017 to 2030. For this study, Nova one advisor, Inc. has segmented the global Biosimilars market
Biosimilars Market, by Product
Monoclonal Antibodies

Infliximab

Trastuzumab

Rituximab

Adalimumab

Other monoclonal antibodies (bevacizumab, cetuximab, ranibizumab, denosumab, and eculizumab)

Insulin

Granulocyte Colony-Stimulating Factor

Erythropoietin

Recombinant Human Growth Hormone

Etanercept

Follitropin

Teriparatide

Interferons

Enoxaparin Sodium

Glucagon

Calcitonin
Biosimilars Market, by Indication
Oncology

Inflammatory & Autoimmune Disorders

Chronic Diseases

Blood Disorders

Growth Hormone Deficiency

Infectious Diseases

Other Indications (infertility, hypoglycemia, postmenopausal osteoporosis, chronic kidney failure, and ophthalmic diseases)
By Regional Outlook
North America
Europe
Germany

France

United Kingdom

Rest of Europe
Asia Pacific
China

Japan

India

Southeast Asia

Rest of Asia Pacific
Latin America
Brazil

Rest of Latin America
Middle East & Africa (MEA)
Key Benefits for Stakeholders
This report provides a quantitative analysis of the market segments, current trends, estimations, and dynamics of the global Biosimilars industry analysis from 2022 to 2030 to identify the prevailing Biosimilars industry opportunity.

The market research is offered along with information related to key drivers, restraints, and opportunities.

Porter's five forces analysis highlights the potency of buyers and suppliers to enable stakeholders make profit-oriented business decisions and strengthen their supplier-buyer network.

In-depth analysis of the global Biosimilars industry segmentation assists to determine the prevailing market opportunities.

Major countries in each region are mapped according to their revenue contribution to the global market.

Market player positioning facilitates benchmarking and provides a clear understanding of the present position of the market players.

The report includes the analysis of the regional as well as global Biosimilars industry trends, key players, market segments, application areas, and market growth strategies.