Hospital-Acquired Infection Control Market by Product & Service (Sterilization, Cleaning & Disinfection Products, Protective Barriers, and Endoscope Reprocessing Products), Infection Type (Hospital Acquired Pneumonia, Bloodstream Infections, Surgical Site Infections, Gastrointestinal Infections, Urinary Tract Infections (UTI), and Others), and End User (Hospitals & Clinics, Ambulatory Surgical Centers, and Others)- Global Industry Analysis, Share, Growth, Regional Outlook And Forecasts, 2021-2027
The global Hospital-Acquired Infection Control market gathered revenue around USD 19,959 Million in 2020 and market is set to grow USD 25,010 Million by the end of 2027 and is estimated to expand at a modest CAGR of 6.7% during the prediction period 2021 to 2027.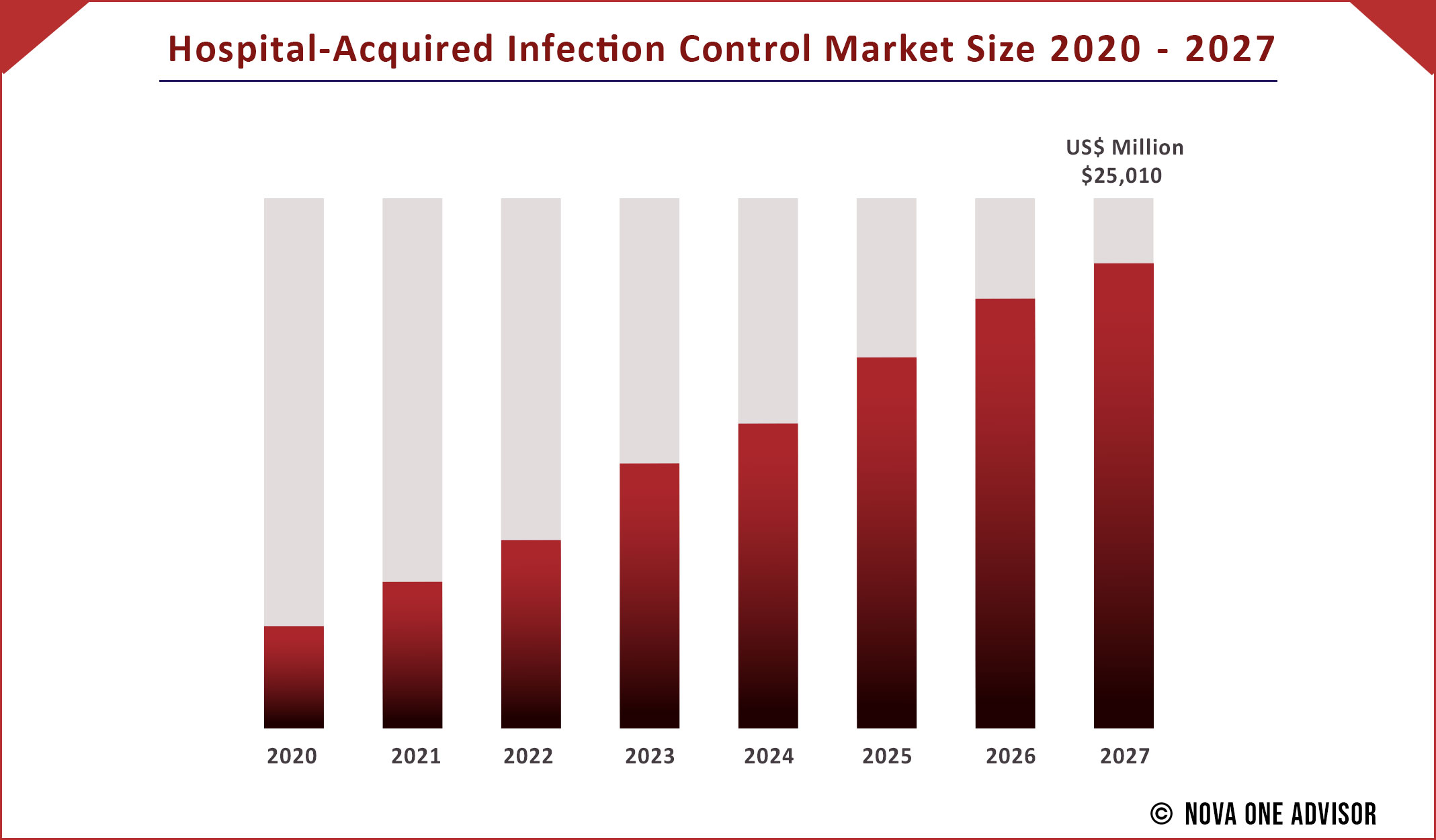 Infections are majorly caused by microorganisms such as virus, bacteria, and fungi, or parasites. Infections can be of different types such as stomach and intestinal infections, lung & respiratory infections, eye infections, ear infections, hospital-acquired infections, skin infections, and sexually transmitted infections. Hospital-acquired infections can be caused by the cross-infection from surface and skin of patient, equipment, and healthcare staff. Different types of products and services available to control hospital-acquired infections include sterilization, cleaning & disinfection products, protective barriers, and endoscope reprocessing products.
This research report purposes at stressing the most lucrative growth prospects. The aim of the research report is to provide an inclusive valuation of the Hospital-Acquired Infection Control market and it encompasses thoughtful visions, actualities, industry-validated market findings, historic data, and prognoses by means of appropriate set of assumptions and practice. Global Hospital-Acquired Infection Control market report aids in comprehending market structure and dynamics by recognizing and scrutinizing the market sectors and predicted the global market outlook.
COVID-19 Impact Assessment on Market Landscape
The report comprises the scrutiny of COVID-19 lock-down impact on the income of market leaders, disrupters and followers. Since lock down was instigated differently in diverse regions and nations, influence of same is also dissimilar across various industry verticals. The research report offers present short-term and long-term influence on the market to assist market participants across value chain makers to formulate the framework for short term and long-lasting tactics for recovery and by region.
Hospital-Acquired Infection Control market report empowers readers with all-inclusive market intelligence and offers a granular outline of the market they are operational in. Further this research study delivers exceptional combination of tangible perceptions and qualitative scrutiny to aid companies accomplishes sustainable growth. This report employs industry-leading research practices and tools to assemble all-inclusive market studies, intermingled with pertinent data. Additionally, this report also emphases on the competitive examination of crucial players by analyzing their product portfolio, pricing, gross margins, financial position, growth approaches, and regional occurrence.
Scope of the Report
This report provides an all-inclusive environment of the analysis for the Hospital-Acquired Infection Control Market. The market estimates provided in the report are the result of in-depth secondary research, primary interviews and in-house expert reviews. These market estimates have been considered by studying the impact of various social, political and economic factors along with the current market dynamics affecting the Hospital-Acquired Infection Control Market growth
Along with the market overview, which comprises of the market dynamics the chapter includes a Porter's Five Forces analysis which explains the five forces: namely buyers bargaining power, suppliers bargaining power, threat of new entrants, threat of substitutes, and degree of competition in the Hospital-Acquired Infection Control Market. It explains the various participants, such as system integrators, intermediaries and end-users within the ecosystem of the market. The report also focuses on the competitive landscape of the Hospital-Acquired Infection Control Market.
| | |
| --- | --- |
| Report Highlights | Details |
| Market Size | US$ 25,010 Million by 2027 |
| Growth Rate | CAGR of 6.7% From 2021 to 2027 |
| Base Year | 2020 |
| Historic Data | 2017 to 2020 |
| Forecast Period | 2021 to 2027 |
| Segments Covered | Product & Service,Infection Type,End User |
| Regional Scope | North America, Europe, Asia Pacific, Latin America, Middle East & Africa (MEA) |
| Companies Mentioned | 3M Company, Belimed AG, Ecolab Inc, Fortive (Advanced Sterilization Products), Getinge AB, Matachana Group, Miele Group, MMM Group, Sotera Health LLC, and Steris Plc. (Cantel Medical Corporation) |
Competitive Rivalry
Foremost players in the market are attentive on adopting corporation strategies to enhance their market share. Some of the prominent tactics undertaken by leading market participants in order to sustain the fierce market completion include collaborations, acquisitions, substantial spending in R&D and the improvement of new-fangled products or reforms among others.
Major manufacturers & their revenues, percentage splits, market shares, growth rates and breakdowns of the product markets are determined through secondary sources and verified through the primary sources.
Company Overview
Company Market Share/Positioning Analysis
Product Offerings
Financial Performance
Recent Initiatives
Key Strategies Adopted by Players
Vendor Landscape
List of Suppliers
List of Buyers
Significant Market Participants Operational in the Hospital-Acquired Infection Control Market are:
The key players profiled in this report include 3M Company, Belimed AG, Ecolab Inc, Fortive (Advanced Sterilization Products), Getinge AB, Matachana Group, Miele Group, MMM Group, Sotera Health LLC, and Steris Plc. (Cantel Medical Corporation).
Unravelling the Critical Segments
This research report offers market revenue, sales volume, production assessment and prognoses by classifying it on the basis of various aspects including product type, application/end-user, and region. Further, this research study investigates market size, production, consumption and its development trends at global, regional, and country level for period 2017 to 2027 and covers subsequent region in its scope:
Market Segments
By Product & Service
Sterilization

Sterilization Product

Heat Sterilization Equipment
Low Temperature Sterilization Equipment
Radiation Sterilization Equipment
Other Sterilization Equipment

Contract Sterilization Services
Sterilization Consumables & Accessories

Cleaning & Disinfection Products

Disinfectants
Disinfectors Equipment
Others

Protective Barriers
Endoscope Reprocessing Products
By Infection Type
Hospital-acquired Pneumonia
Bloodstream Infections
Surgical Site Infections
Gastrointestinal Infections
Urinary Tract Infections (UTI)
Others
By End User
Hospitals & Clinics
Ambulatory Surgical Centers
Others
By Geography
North America
Europe
Germany
France
United Kingdom
Rest of Europe
Asia Pacific
China
Japan
India
Southeast Asia
Rest of Asia Pacific
Latin America
Brazil
Rest of Latin America
Middle East & Africa (MEA)
GCC
North Africa
South Africa
Rest of Middle East & Africa
Highlights of the Report:
Market Penetration

: Comprehensive information on the product portfolios of the top players in the market.

Product Development/Innovation

: Detailed insights on the upcoming technologies, R&D activities, and product launches in the market

Competitive Assessment

: In-depth assessment of the market strategies, geographic and business segments of the leading players in the market

Market Development

: Comprehensive information about emerging markets. This report analyzes the market for various segments across geographies

Market Diversification

: Exhaustive information about new products, untapped geographies, recent developments, and investments in the market
Research Methodology
A unique research methodology has been utilized by Nova one advisor to conduct comprehensive research on the growth of the global Hospital-Acquired Infection Control market and arrive at conclusions on its growth prospects. This research methodology is a combination of primary and secondary research, which helps analysts warrant the accuracy and reliability of the drawn conclusions.
Nova one advisor employs comprehensive and iterative research methodology focused on minimizing deviance in order to provide the most accurate estimates and forecast possible. The company utilizes a combination of bottom-up and top-down approaches for segmenting and estimating quantitative aspects of the market. In Addition, a recurring theme prevalent across all our research reports is data triangulation that looks market from three different perspectives. Critical elements of methodology employed for all our studies include:
Preliminary data mining
Raw market data is obtained and collated on a broad front. Data is continuously filtered to ensure that only validated and authenticated sources are considered. In addition, data is also mined from a host of reports in our repository, as well as a number of reputed paid databases. For comprehensive understanding of the market, it is essential to understand the complete value chain and in order to facilitate this; we collect data from raw material suppliers, distributors as well as buyers.
Technical issues and trends are obtained from surveys, technical symposia and trade journals. Technical data is also gathered from intellectual property perspective, focusing on white space and freedom of movement. Industry dynamics with respect to drivers, restraints, pricing trends are also gathered. As a result, the material developed contains a wide range of original data that is then further cross-validated and authenticated with published sources.
Statistical model
Our market estimates and forecasts are derived through simulation models. A unique model is created customized for each study. Gathered information for market dynamics, technology landscape, application development and pricing trends is fed into the model and analyzed simultaneously. These factors are studied on a comparative basis, and their impact over the forecast period is quantified with the help of correlation, regression and time series analysis. Market forecasting is performed via a combination of economic tools, technological analysis, and industry experience and domain expertise.
Econometric models are generally used for short-term forecasting, while technological market models are used for long-term forecasting. These are based on an amalgamation of technology landscape, regulatory frameworks, economic outlook and business principles. A bottom-up approach to market estimation is preferred, with key regional markets analyzed as separate entities and integration of data to obtain global estimates. This is critical for a deep understanding of the industry as well as ensuring minimal errors. Some of the parameters considered for forecasting include:
Market drivers and restrains, along with their current and expected impact
Raw material scenario and supply v/s price trends
Regulatory scenario and expected developments
Current capacity and expected capacity additions up to 2027
We assign weights to these parameters and quantify their market impact using weighted average analysis, to derive an expected market growth rate.
Primary validation
This is the final step in estimating and forecasting for our reports. Exhaustive primary interviews are conducted, on face to face as well as over the phone to validate our findings and assumptions used to obtain them. Interviewees are approached from leading companies across the value chain including suppliers, technology providers, domain experts and buyers so as to ensure a holistic and unbiased picture of the market. These interviews are conducted across the globe, with language barriers overcome with the aid of local staff and interpreters. Primary interviews not only help in data validation, but also provide critical insights into the market, current business scenario and future expectations and enhance the quality of our reports. All our estimates and forecast are verified through exhaustive primary research with Key Industry Participants (KIPs) which typically include:
Market leading companies
Raw material suppliers
Product distributors
Buyers
The key objectives of primary research are as follows:
To validate our data in terms of accuracy and acceptability
To gain an insight in to the current market and future expectations
Secondary Validation
Secondary research sources referred to by analysts during the production of the global Hospital-Acquired Infection Control market report include statistics from company annual reports, SEC filings, company websites, investor presentations, regulatory databases, government publications, and industry white papers. Analysts have also interviewed senior managers, product portfolio managers, CEOs, VPs, and market intelligence managers, who contributed to the production of Nova one advisor's study on the Hospital-Acquired Infection Control market as primary methods.
Key Points Covered in Hospital-Acquired Infection Control market Study:
Growth of Hospital-Acquired Infection Control in 2021

Market Estimates and Forecasts (2017-2027)

Brand Share and Market Share Analysis

Key Drivers and Restraints Shaping Market Growth

Segment-wise, Country-wise, and Region-wise Analysis

Competition Mapping and Benchmarking

Recommendation on Key Winning Strategies

COVID-19 Impact on Demand for Hospital-Acquired Infection Control and How to Navigate

Key Product Innovations and Regulatory Climate

Hospital-Acquired Infection Control Consumption Analysis

Hospital-Acquired Infection Control Production Analysis

Hospital-Acquired Infection Control and Management