The global Lithium-ion Battery market size was estimated at USD 49.63 billion in 2022 and is expected to surpass around USD 264.21 billion by 2032 and poised to grow at a compound annual growth rate (CAGR) of 20.1% during the forecast period 2023 to 2032.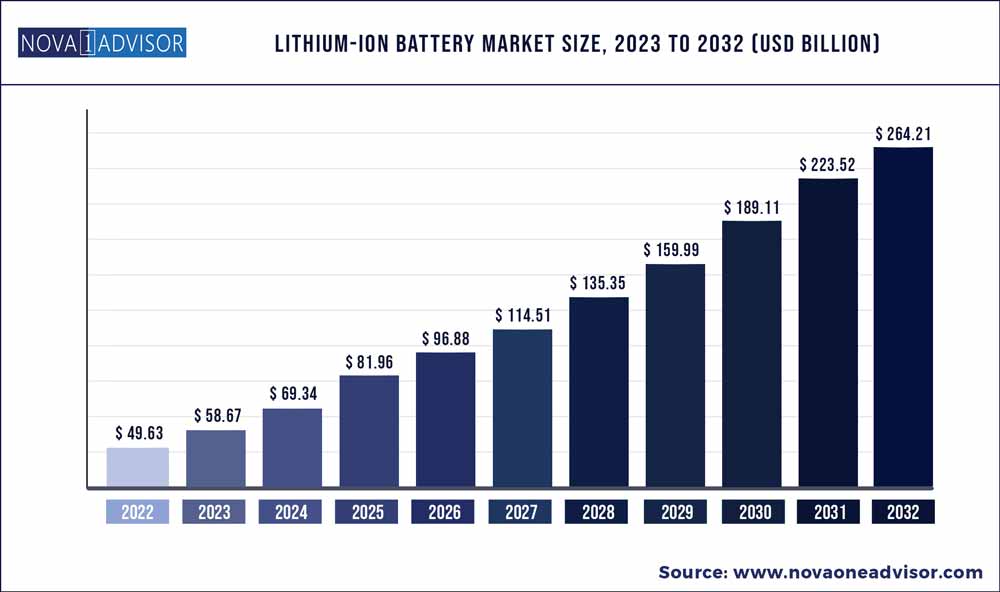 Key Pointers:
In 2022, the consumer electronics application segment held the largest revenue share of over 41.9%. Portable batteries are incorporated in portable devices and consumer electronic products. The applications of portable batteries include mobile phones, laptops, computers, tablets, and other wearable devices
In 2022, the LCO product segment accounted for the largest revenue share of over 30.0%. High demand for LCO batteries in mobile phones, tablets, laptops, and cameras on account of their high energy density and high safety level is expected to augment the market growth over the forecast period
The U.S. emerged as the largest market in North America in 2022. Increasing electric vehicle sales in the country owing to supportive federal policies, coupled with the presence of several players in the U.S. market, are expected to drive the demand for lithium-ion batteries
In CSA, lithium-ion batteries are frequently used battery types for Electrical Energy Storage (EES) owing to applications including stand-alone systems with PV, emergency power supply systems, and battery systems for the mitigation of output fluctuations from wind and solar power
In Brazil, the government is taking various initiatives to support the electric vehicle market by exempting annual car ownership tax and import tax on electric vehicles. This is expected to fuel the demand for lithium-ion batteries over the coming years
Lithium-ion Battery Market Report Scope
| | |
| --- | --- |
| Report Coverage | Details |
| Market Size in 2023 | USD 58.67 Billion |
| Market Size by 2032 | USD 264.21 Billion |
| Growth Rate from 2023 to 2032 | CAGR of 20.1% |
| Base year | 2022 |
| Forecast period | 2023 to 2032 |
| Segments covered | Material, Product Type, Type, Capacity, Voltage, and Industry |
| Regional scope | North America; Europe; Asia Pacific; Central and South America; the Middle East and Africa |
| Key companies profiled | LG Chem (South Korea), SAMSUNG SDI CO. LTD. (South Korea), Contemporary Amperex Technology Co., Limited. (China), BYD Company Ltd. (China), Panasonic Holdings Corporation (Japan), BAK Power Battery Co., Ltd. (China), Hitachi Ltd. (Japan), among others - total 25 players have been covered |
The market is expected to witness significant growth over the forecast period on account of the increasing consumption of rechargeable batteries in consumer electronics and a rise in the adoption of electric vehicles. The rising sales of electric vehicles, along with the expanding renewable energy sector, are expected to drive the market. The emergence of integrated charging stations, green power-generation capability, eMobility providers, battery manufacturers, and energy suppliers is anticipated to stimulate market growth in the coming years.
Increasing sales of electric vehicles in the U.S. owing to supportive federal policies, coupled with the presence of market players in the country, are expected to drive the demand for lithium-ion batteries in the U.S. over the forecast period. Favorable government policies for infrastructural developments at the domestic level through the National Infrastructural Plan (NIP) of the U.S. are expected to promote the growth of the market in the U.S. over the forecast period. Development of the automotive industry in Indonesia, Vietnam, Mexico, Thailand, and India is expected to drive the industry. The growing inclination toward pollution-free HEVs and EVs, along with technological developments, is expected to drive the lithium-ion battery demand over the forecast period. China is expected to witness high gains in light of energy storage technologies and favorable government support to promote investments in the manufacturing sector.
The growing number of portable consumer electronics that rely on batteries has led to the increased consumption of rechargeable batteries. Portable devices including smartphones, digital cameras, MP3 players, and laptops require rechargeable batteries to provide efficient and effective power. Battery technology is evolving continuously to meet the high performance and power density requirements of devices. High demand for LCO batteries in mobile phones, tablets, laptops, and cameras on account of their high energy density and high safety level is expected to augment the market growth over the forecast period. However, the relatively short life span of LCO batteries, coupled with low thermal stability and limited load capabilities (specific power), is likely to act as a market restraint.
Electric and hybrid electric vehicles are projected to be the key consumers of lithium-ion batteries in the coming years. Growing awareness among the masses regarding the benefits offered by battery-operated vehicles and increasing fossil fuel prices, particularly in Asia Pacific, Europe, and North America, are projected to contribute to the growth of the automotive application segment over the forecast period. COVID-19 has been a major restraint to the market owing to several factors including reducing operational costs by end-users, coupled with disruption in the availability of spare parts due to sluggish manufacturing activities and logistics issues.
Lithium-ion Battery Industry Dynamics
DRIVERS: Growing adoption in plug-in vehicles
Lithium-ion batteries are a source of power for electric vehicles. The widespread use of electric vehicles and plug-in hybrid electric vehicles has boosted the adoption of lithium-ion batteries, which is expected to increase further in future.
The rising adoption of electric vehicles among consumers has helped boost the market for these energy-saving, pollution-reducing vehicles. The number of automobile companies involved in the development of new and improved electric vehicles has also increased. For instance, Tesla Motors, Inc. (US) is one of the leading manufacturers of high-power electric vehicles such as Model X and Model 3. Companies such as General Motors Company (US), Toyota Motor Corporation (US), Ford Motor Company (US), Nissan Motor Company (Japan), and Jaguar Land Rover Limited (UK) are also involved in the production of electric vehicles.
RESTRAINT: Increasing concern in transportation and storage of spent batteries
Spent batteries contain hazardous chemicals including acids and heavy metals such as mercury and lead. According to the Environmental Protection Agency Report published in July 2022, there have been 254 fire incidents at 65 waste facilities due to lithium metal or lithium-ion batteries. It is mandatory to keep spent batteries in watertight containers and store them away from other flammable and combustible materials. It is also important to keep a Class D extinguisher and sand nearby as a precautionary measure in the event of a fire.
OPPORTUNITIES: Increasing R&D for advancements
Research & development is undertaken by various manufacturers to develop durable and safer lithium-ion batteries. As the world is moving toward adopting clean energy, there has been a significant increase in the R&D initiatives undertaken by battery manufacturers for developing different battery chemistries.
For instance, major players such as Amprius Inc. (US) and Nexeon Corporation (UK) are undertaking the development of silicon anode batteries with enhanced features. These advanced silicon anode batteries are expected to be adopted diversely in the coming years. Tesla (US) and Panasonic Corporation (Japan) are undertaking research & development activities in silicon anode and lithium-air batteries to power electric vehicles.
CHALLENGES: Excessive heating of batteries
Lithium-ion batteries are used in consumer electronics, automobiles, electrical systems, commercial aviation, automated guided vehicle, forklifts, pallet trucks, and material-handling equipment.
While lithium-ion batteries can store relatively large amounts of energy in small spaces, they tend to heat up quickly and may catch fire in case of any malfunction. Overheating of lithium-ion batteries take places due to high-rate discharge or abnormal rate of discharge such as short circuit. For instance, in September 2022, the Moss Landing Energy storage facility in California knocked offline after the overheating of lithium-ion batteries.
Recent Developments in Lithium-Ion Battery Market
In February 2022, Panasonic Holdings Corporation is going to establish a production facility in Wakayama Factory in western Japan to manufacture new "4680" lithium-ion batteries for electric vehicles to expand its business globally. Productivity verification and mass production are likely to begin from the end of the fiscal year 2024.
In October 2021, LG Energy Solution, a subsidiary operated by LG Chem, entered a memorandum of understanding with Stellantis N.V. to form a joint venture to produce battery cells and modules for North America. This joint venture will help Stellantis N.V. goal to achieve a 40% market share in the US comprising electrified vehicles by 2030. The batteries produced in this plant will be supplied to assembly plants of Stellantis N.V. in the US, Canada, and Mexico for installation in next-generation electric vehicles.
In January 2021, BYD Company Ltd. has a partnership with Chinese lithium-ion recycling start-up Pandpower Co., Ltd., and Japanese trading house Itochu for transformation of old batteries into energy storage systems. Old battery packs from buses, taxis, and other vehicles are collected from BYD Company Ltd. dealerships across China, and these are converted into a ship-container-sized power units for renewable energy and factories.
Some of the prominent players in the Lithium-ion Battery Market include:
BYD Company Ltd.
Duracell Inc.
Hitachi, Ltd.
Johnson Controls
LG Chem
Panasonic Corporation
Renault Group
Samsung SDI Co., Ltd.
Tesla
TOSHIBA CORPORATION
Segments Covered in the Report
This report forecasts revenue growth at global, regional, and country levels and provides an analysis of the latest industry trends in each of the sub-segments from 2018 to 2032. For this study, Nova one advisor, Inc. has segmented the global Lithium-ion Battery market.
Lithium-Ion Battery Market By Material
Cathode Material

Cathode Material for Lithium-Ion Batteries

Lithium iron phosphate
Lithium iron cobalt oxide
Lithium nickel manganese cobalt
Lithium nickel cobalt aluminum
Lithium manganese oxide

Anode Materials

Anode Material for Lithium-Ion Batteries

Natural graphite
Artificial graphite
Another anode material

Electrolyte Material
Separator Material
Current collector Materials
Other Materials
Li-Ion Battery Market By Product Type
Components of Lithium-ion Battery
Portability
Li-Ion Battery Market By Type
Lithium Nickel Manganese Cobalt oxide
Lithium Iron Phosphate
Lithium Cobalt Oxide
Lithium Titanate Oxide
Lithium Manganese Oxide
Lithium Nickel Cobalt Aluminum Oxide
By Capacity
0 to 3,000 mAh
3,000 to 10,000 mAh
10,000 to 60,000 mAh
60,000 mAh and Above
By Voltage
Low (Below 12 V)
Medium (12 V-36 V)
High (Above 36 V)
By Industry
Consumer Electronics

Smartphones
UPS
Laptops
Others

Automotive
Aerospace
Marine
Medical
Industrial

Mining Equipment
Construction Equipment
Forklifts, automated guided vehicles (AGV), and automated mobile robots (AMR)

Power
Telecommunications
By Region
North America
Europe
Asia-Pacific
Latin America
Middle East & Africa (MEA)