The global Roll Slitting Machines market gathered revenue around USD 2.9 Billion in 2020 and market is set to grow USD 3.40 Billion by the end of 2027 and is estimated to expand at a modest CAGR of 4.0% during the prediction period 2021 to 2027.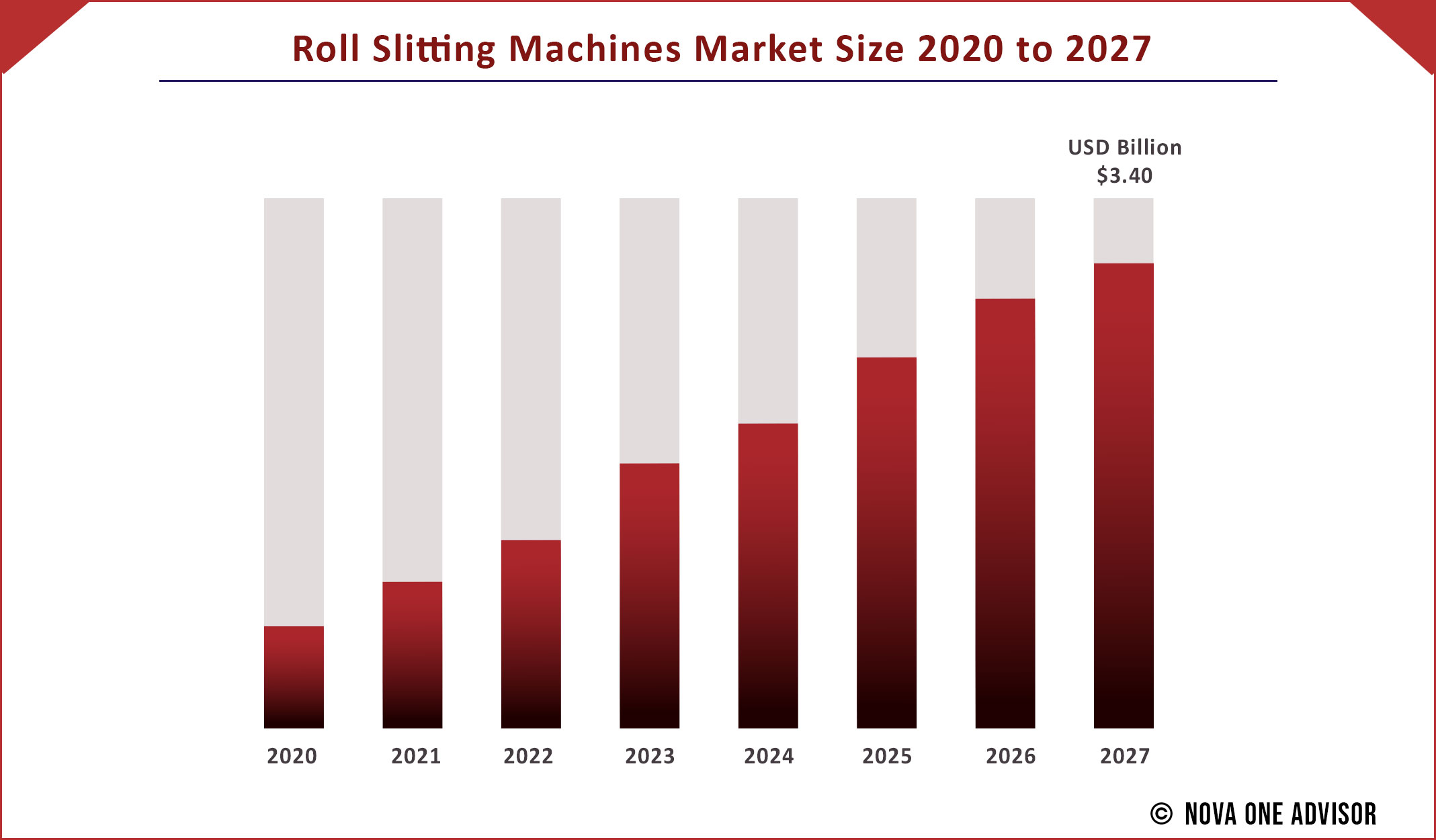 Roll slitting operation includes shear cutting of large rolls of raw materials also known as master roll or parent roll, into rolls with small and narrow shape. Roll slitting is also termed as slitting in the converting industry and plays an integral part in the flexible packaging processes.
A roll slitting machine is an industrial equipment employed to cut large rolls of materials, such as aluminum and paper, into narrower rolls in specific dimensions. Roll slitting machines are also known as baloney slicers, bologna cutters, or log slitters.
A roll slitting machine has two types of slitting i.e. log slitting and rewind slitting. In addition to this, rewind slitting is run or unwound through lasers or knives in order to form narrower rolls before being rewound on one or more shafts. Log slitting is used to roll the material without performing the process of unrolling or re-reeling. In rewind slitting, the web is unwound and run through the machine, passing through knives or lasers, before being rewound on one or more shafts to form narrower rolls. Moreover, roll slitting machines have a wide range of applications in manufacturing processes such as material printing, coating, and lamination
This research report purposes at stressing the most lucrative growth prospects. The aim of the research report is to provide an inclusive valuation of the Roll Slitting Machines market and it encompasses thoughtful visions, actualities, industry-validated market findings, historic data, and prognoses by means of appropriate set of assumptions and practice. Global Roll Slitting Machines market report aids in comprehending market structure and dynamics by recognizing and scrutinizing the market sectors and predicted the global market outlook.
COVID-19 Impact:
The industrial report mentions about the influence of the ongoing COVID-19 pandemic. The outbreak has caused disturbances in several industries and has hammered the logistics, resulting in delayed deliveries and cancellation of product demand. The Roll Slitting Machines report proficiently explains about the resulting factors and concerns of manufacturers. Researchers have also well-explained about how the producers and providers will tackle with the ongoing epidemic and the key strategies to be adopted post pandemic for turning their businesses back to normal.
Regional Insights:
The Roll Slitting Machines market is segmented as North America, South America, Europe, Asia Pacific, and Middle East and Africa. Researchers have thoroughly studied about the historical market. With extensive research, experts have offered details on the current and the forecast demand made by these regions. The Roll Slitting Machines report also includes highlights on the prevailing product demanded by end users and end customers for better understanding of product demand by producers. This will help the producers and the marketing executives to plan their production quantity and plan effective marketing strategies to more buyers. Businesses can hence, increase their product portfolio and expand their global presence. Roll Slitting Machines market research report further offers information on the unexplored areas in these regions to help the producers to plan promotional strategies and create demand for their new and updated products. This will again help the manufacturers to increase their customers and emerge as leaders in the near future.
Report Coverage

Details

Market Size

US$ 3.40 Billion by 2027

Growth Rate

CAGR of 4.0% from 2021 to 2027

Base Year

2020

Forecast Year

2021-2027

Segments Covered

Operation Type,Slitter Blade,Distribution Channel,Industry,Geography




Companies Mentioned

ALS,CMC Converting Machinery Cevenini Srl,Ghezzi & Annoni,H. R. (Paper) Machinery Private Limited,Hariram Engineering,K M Trivedi Engineering Pvt. Ltd.,Kashif Saeed General Trading LLC,Kuen Yuh Machinery Engineering Co., Ltd.
Major Players Covered in this Report
The updated market research report on Roll Slitting Machines market allows the buyers and manufacturers to stay updated with the current market trends, ongoing happenings, and a clear picture on the market scenario. List of key players included in the research report will help the market vendors to know their market position and plan more operational strategies to gain topmost position among other players. The report offers crucial company information on each market player, such as company profile, financial information, and recently adopted growth strategies. This will help other existing players and the new entrants to plan strategies and establish their presence in the market.
Major manufacturers & their revenues, percentage splits, market shares, growth rates and breakdowns of the product markets are determined through secondary sources and verified through the primary sources.
Company Overview

Company Market Share/Positioning Analysis

Product Offerings

Financial Performance

Recent Initiatives

Key Strategies Adopted by Players

Vendor Landscape

List of Suppliers

List of Buyers
Significant Market Participants Operational in the Roll Slitting Machines Market are:
ALS

CMC Converting Machinery Cevenini Srl

Ghezzi & Annoni

H. R. (Paper) Machinery Private Limited

Hariram Engineering

K M Trivedi Engineering Pvt. Ltd.

Kashif Saeed General Trading LLC

Kuen Yuh Machinery Engineering Co., Ltd.

Manfred Oilk Rohrwerkstechnik GmbH & CO. KG

Orion Graphic Machinery

Oteman

R. K. Label Printing Machinery Private Limited

Rosenthal MFG

Svegea

Windmoller & Holscher Machinery k.s.
Market Segmentation:
The report is divided into major categories comprising product, application, regions and others. Every segment is further sub-segmented into several sub-segmented that are deeply analyzed by experts to offer valuable information to the buyers and market players. Every segment is studied thoroughly in order to offer a better picture to the buyers and stakeholders to benefit from. Information like highest prevailing product, highly demanded product by the application segment and end users are rightly mentioned in the Roll Slitting Machines report.
The global roll slitting machines market can be segmented based on:
Operation Type

Slitter Blade

Distribution Channel

Industry

Region
Global Roll Slitting Machines Market, by Operation Type
Automatic

Semi-automatic

Manual
Global Roll Slitting Machines Market, by Slitter Blade
Large Circular Blade

Fixed Band Blade
Global Roll Slitting Machines Market, by Distribution Channel
Direct Sales (OEM)

Indirect Sales
Global Roll Slitting Machines Market, by Industry
Paper & Pulp

Textile

Packaging

Others (Manufacturing)
By Geography
North America
Europe
Germany

France

United Kingdom

Rest of Europe
Asia Pacific
China

Japan

India

Southeast Asia

Rest of Asia Pacific
Latin America
Brazil

Rest of Latin America
Middle East & Africa (MEA)
Manufacturers
The report includes comprehensive company profiling of leading and emerging companies competing in the global Roll Slitting Machines market. It provides a detailed list of players operating at a global level. The players have been listed according to the type of products they offer in the global Roll Slitting Machines market and other factors. As part of the company profiling, the analysts authoring the report has provided the market entry year of each player considered for the research study. The report also offers extensive price, volume sales, and revenue analysis by the manufacturer at the global level for the period 2016-2021.
In this study, the years considered to estimate the market size of Roll Slitting Machines are as follows:
The Queries answered by Roll Slitting Machines Market Research Report include:
What are the key producers, equipment suppliers, raw material suppliers, end users, distributors and traders in the Roll Slitting Machines Market?

What are the crucial factors impacting the Roll Slitting Machines Market Growth?

What are production processes, major problems or obstacles, and solutions to tone down the development risk?

What is the contribution made by regional manufacturers to the overall market?

What are the major market segment, influential trends, market potential, and key challenges that the market is witnessing?
Research Methodology
In order to compile the research report, we conducted in-depth interviews and discussions with a number of key industry participants and opinion leaders. Primary research represents the bulk of research efforts, supplemented by extensive secondary research. We reviewed key players' product literature, annual reports, press releases, and relevant documents for competitive analysis and market understanding. Secondary research also includes a search of recent trade, technical writing, internet sources, and statistical data from government websites, trade associations, and agencies. This has proven to be the most reliable, effective, and successful approach for obtaining precise market data, capturing industry participants' insights, and recognizing business opportunities.
Secondary research sources that are typically referred to include, but are not limited to company websites, annual reports, financial reports, broker reports, investor presentations, and SEC filings, internal and external proprietary databases, and relevant patent and regulatory databases, national government documents, statistical databases, and market reports, news articles, press releases, and webcasts specific to companies operating in the market, National government documents, statistical databases, and market reports.
Primary research involves e-mail interactions, telephonic interviews, and face-to-face interviews for each market, category, segment, and sub-segment across geographies. We conduct primary interviews on an ongoing basis with industry participants and commentators in order to validate the data and analysis. Primary interviews provide firsthand information on market size, market trends, growth trends, competitive landscape, and outlook, etc. These help validate and strengthen secondary research findings. These also help develop the analysis team's expertise and market understanding.
OBJECTIVES OF THE STUDY
To analyze and forecast the Roll Slitting Machines market, in terms of value and volume

To provide information about the key factors influencing the growth of the market (drivers, restraints, opportunities, and challenges)

To define, segment, and project the size of the global Roll Slitting Machines market on the product type, and end-use industry

To project the size of the market, with respect to five main regions, namely, North America, Europe, Asia Pacific (APAC), the Middle East & Africa, and South America, with their key countries

To strategically analyze micromarkets with respect to individual growth trends, growth prospects, and their contribution to the total market

To analyze opportunities in the market for stakeholders and provide a competitive landscape of the market leaders

To strategically profile key players and comprehensively analyze their core competencies

To track and analyze research & development (R&D) and competitive developments such as joint ventures, mergers & acquisitions, and new product developments in the Roll Slitting Machines market