Smart Lock Market By Type (Deadbolt, Lever Handle, Padlock), By Application (Residential, Hospitality, Enterprise, Critical Infrastructure, Others)- Global Industry Analysis, Share, Growth, Regional Outlook and Forecasts, 2022-2030
The global Smart Lock market gathered revenue around USD 1.42 Billion in 2021 and market is set to grow USD 45.9 million units by the end of 2030 and is estimated to expand at a modest CAGR of 21.9% during the prediction period 2022 to 2030.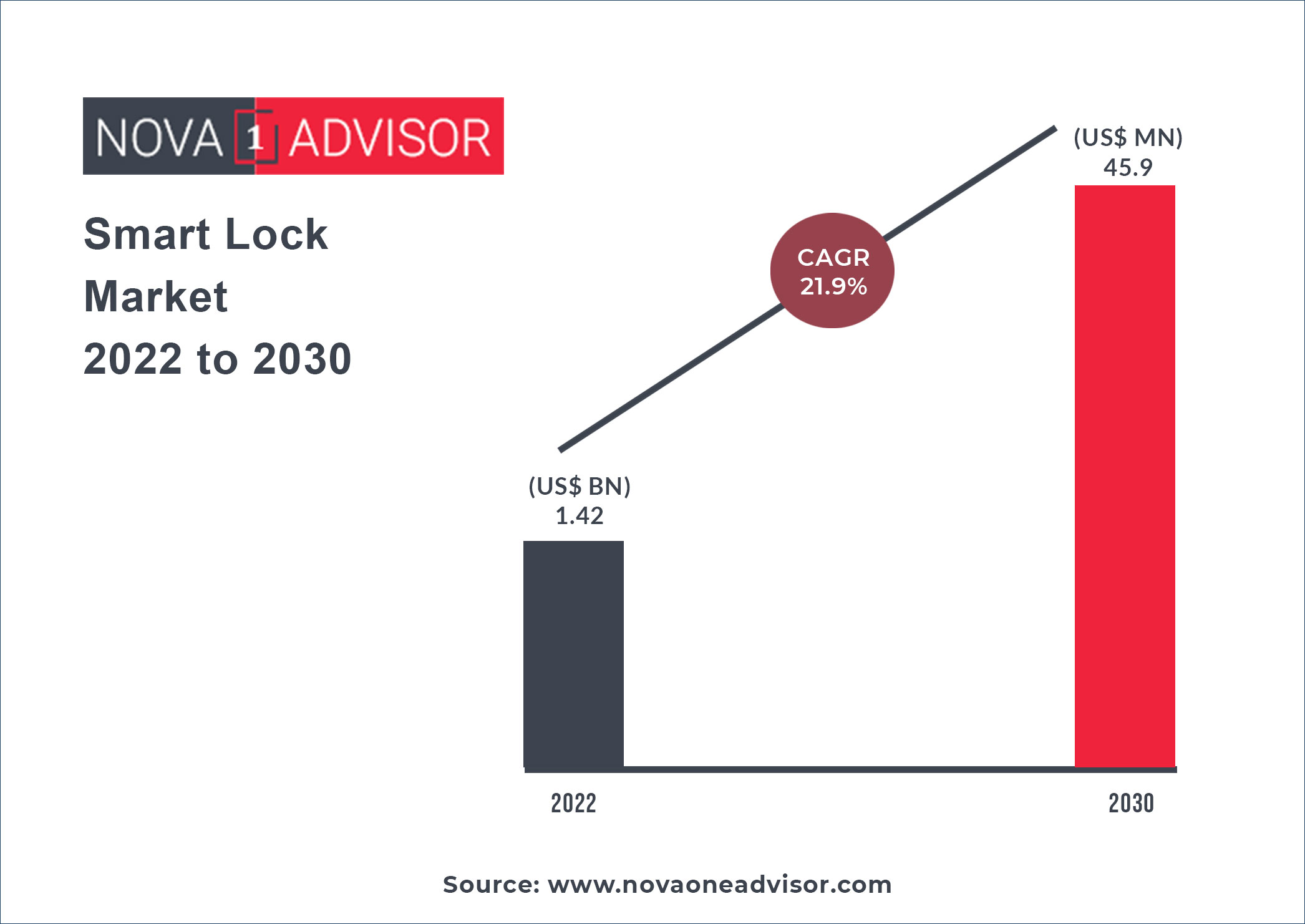 Growth Factors:
Rising awareness among consumers regarding the benefits and convenience offered by smart home security solutions and surging adoption of connected devices are primarily driving the industry growth. Besides, the hospitality sector has witnessed a large-scale deployment of smart locks with leading companies and stay aggregators increasingly relying on them to ensure security and accessibility to both customers and owners.
The rising global smartphone penetration has further opened new growth prospects for industry participants due to their continuous efforts to launch apps to manage the locking/unlocking procedures. Furthermore, prominent market players are incorporating various innovative techniques, such as Wi-Fi-enabled locking/unlocking and Bluetooth-based (BLE) locking/unlocking using smartphones and other devices, in their smart lock models. Touch panels are also being incorporated to facilitate the entry of passwords or pattern-based locking/unlocking.
This research report purposes at stressing the most lucrative growth prospects. The aim of the research report is to provide an inclusive valuation of the Smart Lock market and it encompasses thoughtful visions, actualities, industry-validated market findings, historic data, and prognoses by means of appropriate set of assumptions and practice. Global Smart Lock market report aids in comprehending market structure and dynamics by recognizing and scrutinizing the market sectors and predicted the global market outlook.
Report Coverage
Report Scope
Details
Market Size
USD

45.9 million units

by 2030

Growth Rate

CAGR of

21.9

% From 2022 to 2030

Base Year

2021

Forecast Period

2022 to 2030

Report coverage

Growth Factors, Revenue Status, Competitive Landscape, and Future Trends

Segments Covered
Type, application, region

Regional Scope

North America, Europe, Asia Pacific, Latin America, Middle East & Africa (MEA)

Companies Mentioned

Yale; Schlage; August Home; Kwikset; Goji; SDS Smart Locks; Mul-T-Lock; UniKey Technologies Inc.
COVID-19 Impact Assessment on Market Landscape
The report comprises the scrutiny of COVID-19 lock-down impact on the income of market leaders, disrupters and followers. Since lock down was instigated differently in diverse regions and nations, influence of same is also dissimilar across various industry verticals. The research report offers present short-term and long-term influence on the market to assist market participants across value chain makers to formulate the framework for short term and long-lasting tactics for recovery and by region.
Smart Lock market Report empowers readers with all-inclusive market intelligence and offers a granular outline of the market they are operational in. Further this research study delivers exceptional combination of tangible perceptions and qualitative scrutiny to aid companies accomplishes sustainable growth. This report employs industry-leading research practices and tools to assemble all-inclusive market studies, intermingled with pertinent data. Additionally, this report also emphases on the competitive examination of crucial players by analyzing their product portfolio, pricing, gross margins, financial position, growth approaches, and regional occurrence.
Regional Insights
North America captured the largest market share of over 42.7% in 2020 and is expected to maintain its dominance over the forecast period. This is primarily attributed to the high technology adoption and rising penetration of smart homes across the U.S. As per a study conducted by Grand View Research, approximately 30.2% of the broadband households in the U.S. intend to purchase a smart lock by the end of 2022. The high spending capacity of customers and rising security concerns, especially across the critical infrastructure and residential applications, have led to a favorable regulatory scenario for their adoption.
Asia Pacific is anticipated to emerge as the fastest-growing region, exhibiting a CAGR of over 24.9% from 2022 to 2030. The substantial growth can be attributed to a significant increase in the number of residential and commercial projects as well as ongoing smart city initiatives in developing countries such as India. Moreover, smart home penetration across the region has also witnessed significant growth, which, in turn, is playing a crucial role in spreading awareness regarding advanced gadgets and technologies. However, norms laid down by government bodies in countries such as Australia require additional product enhancement and modification, which is expected to act as a challenging factor for market growth.
Competitive Rivalry
Foremost players in the market are attentive on adopting corporation strategies to enhance their market share. Some of the prominent tactics undertaken by leading market participants in order to sustain the fierce market completion include collaborations, acquisitions, substantial spending in R&D and the improvement of new-fangled products or reforms among others.
Major manufacturers & their revenues, percentage splits, market shares, growth rates and breakdowns of the product markets are determined through secondary sources and verified through the primary sources.
Company Overview

Company Market Share/Positioning Analysis

Product Offerings

Financial Performance

Recent Initiatives

Key Strategies Adopted by Players

Vendor Landscape

List of Suppliers

List of Buyers
Some of the prominent players in the Smart Lock Market include: Yale; Schlage; August Home; Kwikset; Goji; SDS Smart Locks; Mul-T-Lock; UniKey Technologies Inc.
Segments Covered in the Report
This research report offers market revenue, sales volume, production assessment and prognoses by classifying it on the basis of various aspects. Further, this research study investigates market size, production, consumption and its development trends at global, regional, and country level for the period of 2019 to 2030 and covers subsequent region in its scope:
Deadbolt

Lever Handles

Padlock

Others

By Application

Residential

Hospitality

Enterprise

Critical Infrastructure

Others
By Geography
North America
Europe
Germany

France

United Kingdom

Rest of Europe
Asia Pacific
China

Japan

India

Southeast Asia

Rest of Asia Pacific
Latin America
Brazil

Rest of Latin America
Middle East & Africa (MEA)
GCC

North Africa

South Africa

Rest of Middle East & Africa
Highlights of the Report:
Market Penetration

: Comprehensive information on the product portfolios of the top players in the market.

Product Development/Innovation

: Detailed insights on the upcoming technologies, R&D activities, and product launches in the market

Competitive Assessment

: In-depth assessment of the market strategies, geographic and business segments of the leading players in the market

Market Development

: Comprehensive information about emerging markets. This report analyzes the market for various segments across geographies

Market Diversification

: Exhaustive information about new products, untapped geographies, recent developments, and investments in the market
Research Methodology
In the study, a unique research methodology is utilized to conduct extensive research on the growth of the Smart Lock market, and reach conclusions on the future growth parameters of the market. This research methodology is a combination of primary and secondary research, which helps analysts ensure the accuracy and reliability of the conclusions.
Secondary resources referred to by analysts during the production of the Smart Lock market study are as follows - statistics from government organizations, trade journals, white papers, and internal and external proprietary databases. Analysts have also interviewed senior managers, product portfolio managers, CEOs, VPs, marketing/product managers, and market intelligence managers, all of whom have contributed to the development of this report as a primary resource.
Comprehensive information acquired from primary and secondary resources acts as a validation from companies in the market, and makes the projections on the growth prospects of the Smart Lock markets more accurate and reliable.
Secondary Research
It involves company databases such as Hoover's: This assists us recognize financial information, structure of the market participants and industry competitive landscape.
The secondary research sources referred in the process are as follows:
Governmental bodies, and organizations creating economic policies

National and international social welfare institutions

Company websites, financial reports and SEC filings, broker and investor reports

Related patent and regulatory databases

Statistical databases and market reports

Corporate Presentations, news, press release, and specification sheet of Manufacturers
Primary Research
Primary research includes face-to face interviews, online surveys, and telephonic interviews.
Means of primary research: Email interactions, telephonic discussions and Questionnaire based research etc.

In order to validate our research findings and analysis we conduct primary interviews of key industry participants. Insights from primary respondents help in validating the secondary research findings. It also develops Research Team's expertise and market understanding.
Industry participants involved in this research study include:
CEOs, VPs, market intelligence managers

Procuring and national sales managers technical personnel, distributors and resellers

Research analysts and key opinion leaders from various domains
Key Points Covered in Smart Lock Market Study:
Growth of Smart Lock in 2022

Market Estimates and Forecasts (2017-2030)

Brand Share and Market Share Analysis

Key Drivers and Restraints Shaping Market Growth

Segment-wise, Country-wise, and Region-wise Analysis

Competition Mapping and Benchmarking

Recommendation on Key Winning Strategies

COVID-19 Impact on Demand for Smart Lock and How to Navigate

Key Product Innovations and Regulatory Climate

Smart Lock Consumption Analysis

Smart Lock Production Analysis

Smart Lock and Management