The global Biopharmaceutical market size accounted for USD 327.46 billion in 2022 and is estimated to achieve a market size of USD 1,101.77 billion by 2032 growing at a CAGR of 12.9% from 2023 to 2032.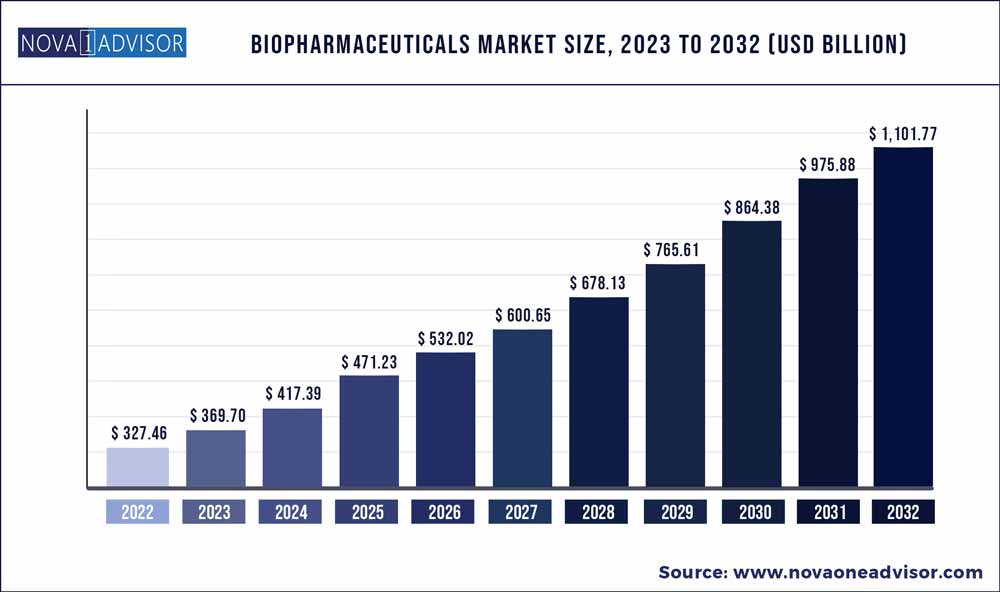 The demand for biological drugs is growing with the increasing global prevalence of chronic diseases, such as cancer, diabetes, and cardiovascular diseases. In this regard, the growing geriatric population and prevalence of associated health issues and the booming demand for advanced biologic drugs are expected to create a healthy growth environment for the industry players.
Furthermore, the increasing number of clinical trials and high investments by companies in R&D activities on novel biologics and biosimilars are expected to boost the industry growth during the forecast period. The rising count of bio-based pharmaceutical product registrations for clinical testing and approvals, especially those created using new manufacturing technologies and platforms, is further expected to fuel the market growth.
Innovations are being brought about in cancer treatment and gene therapies, which are expected to unlock a massive potential for regenerative medicine. However, there are technological and operational challenges, mainly a lack of the capabilities to consistently produce biomolecules at an industrial scale.
The pandemic had a significant positive impact on the market, as many biotech companies were engaged in developing drugs and vaccines for COVID-19 treatment. Although, many countries were in lockdowns, which led to the suspension of trade with other countries and, in turn, a slight decline in industrial production around the world.
But, the International Federation of Pharmaceutical Manufacturers and Associations supported and continued conducting clinical research studies and trials, to ensure that despite the disruption in operational activities, biotherapeutic medicines and vaccines were supplied consistently.
Biopharmaceutical Market Report Scope
| | |
| --- | --- |
| Report Coverage | Details |
| Market Size in 2023 | USD 369.70 Billion |
| Market Size by 2032 | USD 1,101.77 Billion |
| Growth Rate from 2023 to 2032 | CAGR of 12.9% |
| Base year | 2022 |
| Forecast period | 2023 to 2032 |
| Segments covered | Product Type, Service, Raw Material Type, Application, Distribution Channel |
| Regional scope | North America; Europe; Asia Pacific; Latin America; MEA |
| Key companies profiled | Abbott Laboratories, Amgen, Inc., Biogen, Inc., Eli Lilly and Company, F. Hoffmann-La Roche, Ltd., Johnson & Johnson, Merck & Co., Inc., Novo Nordisk A/S, Pfizer, Inc., Sanofi |
Increasing R&D and Therapeutic Acceptance of Bio-Based Drugs Drive Market
As per a study, biopharma medicines have achieved widespread acceptance, ascribed to the Europe-wide average price reductions from nearly 8% for anti-TNF biosimilar products to 33–34% for erythropoietin and G-CSF biosimilars compared to before biosimilars for these drugs were introduced. Moreover, the efficacy and safety of bio-based drugs have led to their rapid adoption by people.
For 17 years till 2017, biopharma products observed more-accelerated and higher-priority approvals in the area of cancer therapeutics than others. As per a study, about 12 out of the 46 chemical entities in approved 2017 and 23 out of 55 chemical entities authorized for marketing in 2018 were anti-neoplastic agents. Thus, with the increasing number of approvals for bio-pharmaceutical products for malignancy therapeutics, the oncology category is expected to experience a tremendous growth rate during the forecast period.
Furthermore, various companies and institutes are focusing on R&D related to biological pharmaceuticals. The number of New Drug Applications (NDAs)/Biologic License Applications (BLAs) registered per year has increased significantly. In 2021, more than 60 agents were approved, compared to about 50 in 2019.
With the rising prevalence of infectious diseases, neurological disorders, and cancer, biopharmaceuticals are becoming increasingly important. Additionally, they are used for the treatment of neurodegenerative disorders, many of which require bio-medicines to be administered directly into the brain, which is not possible with traditional synthetic agents. Moreover, the technological advancements in bio-based drugs have helped increase the chances of survival for cancer patients, cure hepatitis, aid in the recovery of patients with arthritis, and transform treatment options for many other diseases.
Biopharmaceuticals Market Segmentation
By Product Type
Monoclonal Antibodies: The largest segment of the biopharmaceuticals market. Researches carried out with the help of monoclonal antibodies is increasing. Monoclonal antibodies are manufactured using identical immune cells that are clones of a unique parent cell.
Recombinant Growth Factors: They are a group of proteins that stimulate the growth of the cell. These are further segmented into erythropoietin and granulocyte colony-stimulating factor (G-CSF). Erythropoietin is a type of hormone that is produced by the kidneys. G-CSF is a type of glycoprotein that can stimulate the bone marrow to produce granulocytes and stem cells and ultimately release them in the bloodstream.
Purified Proteins: These can be further segmented into four subsegments—leukemia inhibitory factor, P53 protein, P38 protein, and other purified proteins. Leukemia inhibitory factor or LIF is a type of interleukin 6 class cytokine that can affect the cell growth by inhibiting differentiation. P53 is a tumor protein, which is an isoform of a protein encoded by homologous genes in various organisms. P38 protein is a class of mitogen-activated protein kinases that are responsive to cytokines, ultraviolet irradiation, heat shock, osmotic shock, and other stress stimuli.
Recombinant Proteins: They are made from cloned DNA sequences that usually encode a protein or an enzyme with known function. These can be further divided into serum albumin, amyloid protein, defensin, transferrin, and others. Serum albumin is found in the blood and is the most abundant protein found in the human blood plasma. Amyloid proteins are aggregates of proteins that become folded into a particular shape and can allow many copies of that protein to stick together, forming fibrils. Defensins are small cysteine-rich cationic proteins that function as host defense peptides. Transferrin are iron-binding blood plasma glycoproteins that have the ability to control the level of free iron in biological fluids.
Recombinant Hormones: They are produced from fragments of growth hormone and human placental lactogen.
Vaccines: They are a type of biological preparation that can protein active acquired immunity against a particular disease. Vaccines have been further segregated into recombinant vaccines, conventional vaccines, and others. Recombinant vaccines are produced using recombinant DNA technology. They have been further divided into cancer vaccines, malaria vaccines, Ebola vaccines, hepatitis B vaccines, tetanus vaccines, diphtheria vaccines, cholera vaccines, and others. Conventional vaccines act as an immunological base to fight against the most porcine diseases. These are further segmented into polio vaccines, pox vaccines, and others. Vaccines are the fastest-growing segment owing to rising awareness regarding chronic diseases.
Synthetic Immunomodulators: They are a type of medication that is used to help regulate or normalize the immune system. These are further segmented into cytokines, interferons, interleukins; tumor necrosis factor (TNF); and others.
Others: This segment includes recombinant enzymes allogenic & autologous products and acellular products.
Biopharmaceuticals Market By Application
Oncology: The largest segment owing to the rising prevalence of cancer. There were 1,735,350 new cases of cancer in the US in 2019.
Inflammatory and Infectious Diseases: Infectious diseases include cholera, diphtheria, and typhoid. Inflammatory conditions include tuberculosis, rheumatoid arthritis, and sinusitis.
Autoimmune Disorders: These include diseases such as inflammatory bowel disease, multiple sclerosis, and diabetes.
Metabolic Disorders: These types of disorders occur when abnormal chemical reactions in the body hamper the normal metabolic process.
Hormonal Disorders: These include various endocrine disorders such as adrenal insufficiency disorder and hyperthyroidism.
Disease Prevention: Vaccines are the biopharmaceuticals used for the prevention of chronic diseases.
Cardiovascular Diseases: These include coronary heart disease, arrhythmia, and peripheral artery disease.
North America Makes Largest Contribution to Global Revenue Generation
In 2022, North America was dominant, with a global revenue share of 47%, owing to the high R&D investments, growing adoption of technologically advanced solutions, presence of global players, and their efforts to come up with newer patents. The U.S. holds the major share in this region, which is followed by Europe and Asia-Pacific.
With the evolution of biotechnology and conventional pharma sciences, the awareness regarding the best treatments with lower side-effects has also increased. The U.S. leads the global biopharmaceutical R&D list with more than 150,000 studies conducted since 2008, because of the prominence and size of its pharmaceutical sector. Within the country, California accounts for the most studies, in part, because of its robust tech industry and desire for innovation.
Moreover, the U.S. biopharmaceuticals industry has produced more than half the world's new molecules over the last decade, because of the well-supported intellectual property framework, investments, and government initiatives.
Thus, biopharmaceuticals market sales have shown an incredible growth over the past several years in the U.S. The country has been recognized as the innovation capital of the world for life sciences, and its government had put in capital investments since the early stages of pharmaceutical companies. Moreover, it is the biggest investor in healthcare due to its sizable population, established network of researchers, and expansive healthcare industry.
With regard to medical costs, the U.S. has a free-pricing marketing system. The U.S. prices of biologics are comparatively higher than in other countries, which allows biopharma firms to put in the high R&D funds on these drugs.
Some of the prominent players in the Biopharmaceutical Market include:
Abbott Laboratories
Amgen, Inc.
Biogen, Inc.
Eli Lilly and Company
F. Hoffmann-La Roche, Ltd.
Johnson & Johnson
Merck & Co., Inc.
Novo Nordisk A/S
Pfizer, Inc.
Sanofi
Segments Covered in the Report
This report forecasts revenue growth at global, regional, and country levels and provides an analysis of the latest industry trends in each of the sub-segments from 2018 to 2032. For this study, Nova one advisor, Inc. has segmented the global Biopharmaceutical market.
Product Type
Monoclonal Antibodies

Anti-cancer monoclonal antibodies

Anti-inflammatory monoclonal antibodies

Recombinant Growth Factors

Purified Proteins

Recombinant Proteins

Serum albumin

Amyloid protein

Defensin

Transferrin

Recombinant Hormones

Vaccines

Cancer vaccine

Malaria vaccine

Ebola vaccine

Hepatitis-b vaccine

Tetanus vaccine

Diphtheria vaccine

Cholera vaccine

Polio vaccine

Pox vaccine

Recombinant vaccines

Conventional vaccines

Recombinant Enzymes

Enterokinase

Cyclase

Caspase

Cathepsin

Cell and Gene Therapies

Allogenic products

Autologous products

Acellular products

Synthetic Immunomodulators

Cytokines

Interferons

Interleukins

Other Product Types
Service
Laboratory Testing

Custom Testing / Customer Proprietary Testing

Compendial and Multi Compendial Laboratory Testing
Raw Material Type
Formulation Excipients

Active Pharmaceutical Ingredients (API)

Compendial Methods (USP / EP / JP)

Based Vendor Qualification Program Support
Application
Distribution Channel
Hospital Pharmacies

Retail Pharmacies

Diagnostic Laboratories

Online Pharmacies
By Region
North America
Europe
Asia-Pacific
Latin America
Middle East & Africa (MEA)